Senior Class of 2020 Strives To Raise Graduation Rate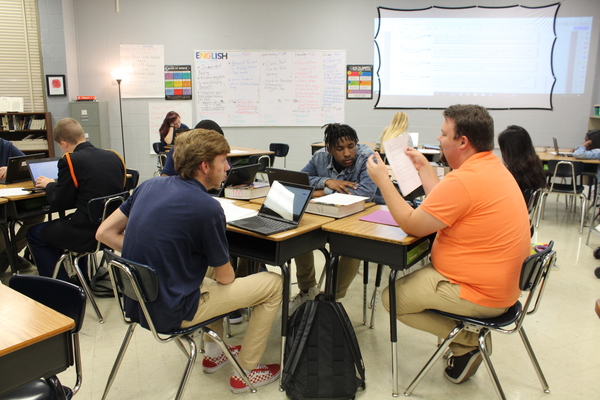 Many schools in Hamilton County have excellent graduation rates and statistics. Unfortunately, Central High School was falling behind on Hamilton County's recent list of graduation rates.
Central came out of the 2018-2019 school year with a graduation rate of 83.2%, the third lowest graduation rate in the county. Many students and parents associated with Central were upset with the school's results.
While 83.2% may not seem like a drastically bad graduation rate, it is not the projected goal of Central's administration.
"Although we would ideally like to see an increase each year, this is not extremely low. We have hovered around this average for several years as best as I can tell from past reports," wrote Central's Principal Phil Iannarone.
While in his first year at Central, Mr. Iannarone has seen the determination of the students and is confident that they will continue to work hard to raise these rates and graduate on time.
"There are so many opportunities to fix damaged grades and so much support from faculty members: their teachers, graduation coach, guidance counselors, academic coach, administration, and college advisor. There's really no excuse for not graduating. It just comes down to wanting to and doing the required work," noted Central's AP Biology, anatomy, and scientific research teacher Tina Cotreau.
One the other hand, some believe that the low graduation rates are not to be blamed on the students, but on the Hamilton County school system as a whole.
"Student success is measured and geared towards evaluating students. Therefore, teachers focus on students they know will succeed and boost them to learn while others are left to do 'what they can,'" wrote Laurelie Holmberg, an alumna of Central High School.
Whatever the cause, Central faculty members have a tenacious grip on the goal of raising next year's graduation rates to at least 86%, and they have a long-term goal to raise the rate to 90% by 2023.
Next year's goal is about a 2.8% increase from the previous year, but it is certainly achievable by the bright and hardworking class of 2020.
"Our senior class of 2020 is a class of vision and hard work, and, hopefully, that will result in an increase in our graduation rate," concluded Iannarone.
Nevertheless, the new senior class is determined to work their hardest not only to graduate, but to thrive and achieve higher education outside of high school.
About the Contributor
Bailey Brantingham, Editor
Hi, my name is Bailey Brantingham. I'm a senior at Central and this year I'll be back on the Digest as an editor. I plan to attend UTK next year for college...