Hamilton County Joins the State in Improving Science Curriculum After Low Test Scores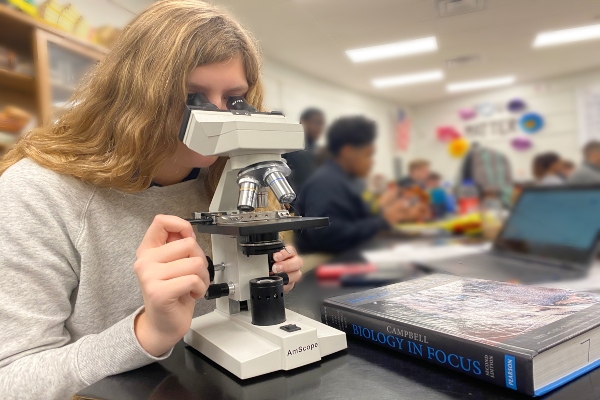 Over the past few years, many counties in the state of Tennessee have displayed underwhelming scores in the Tennessee Value-Added Assessment System, a system that measures student growth over a number of years. These scores included a score of 1 out of 5 in the science section, according to the Chattanooga Times Free Press.
After learning about this issue, Hamilton County Schools decided to start immediate improvement by forming a plan to improve science instruction in schools throughout the district.
The goal of the district is to improve the curriculum and lessons used in science programs for all grade levels in the county and, in doing so, better prepare students for the future.
"The county is continuously tracking data via Mastery Connect, benchmarks, and  EOC scores; they have the data broken down by levels of mastery and how students achieve on each question and each standard.  The goal is to have the data drive instruction and help move students to the next proficiency level," shared Central's Advanced Placement Biology, anatomy, and forensic science teacher Christina Cotreau.
The state of Tennessee believes that these advances toward a better science program will majorly impact and improve students in all counties. However, the news of the district interfering with school science programs is not a popular idea with some teachers. Some educators believe that the curriculum that has been previously enforced is working well, and one cannot judge a student's learning experience based on an online assessment.
"I am not sure the curriculum needs to be changed; in fact, I think we should give the current curriculum a chance and allow the teachers to exercise their professional judgement in creating quality assessments that help students master the standards," shared Cotreau.
Some students disagree as well, agreeing that it is difficult for them to try their best on their work, only to be judged by a simple standardized test.
"Based on past experience, I think that the curriculum is okay, it just seems like they always expect us to learn so much and sometimes it can be difficult," revealed Junior Carmen Crabtree.
Nevertheless, the county will continue to persevere and do their best job at trying to improve the lessons and making things easier for the students and the teachers as well.
Although the spirits of many students have been dragged down by the discouragingly low test scores, the teachers of Hamilton County encourage the students to continue to try their best and work hard, as well as remind every other teacher that they are doing a great job instructing with the material they are given.
About the Contributor
Bailey Brantingham, Editor
Hi, my name is Bailey Brantingham. I'm a senior at Central and this year I'll be back on the Digest as an editor. I plan to attend UTK next year for college...