Art Classes Celebrate Black History Month with Houston Museum Art Presentation
February is Black History month, where all of America focuses on the great accomplishments of African Americans, past and present, and honors their history. On Thursday, February 13, three art classes were able to experience a presentation from the Houston Museum of Decorative Arts in Chattanooga. Students had the opportunity to learn about face jugs from a museum representative, Elizabeth Waters, and paint a replicas of face jugs to take home.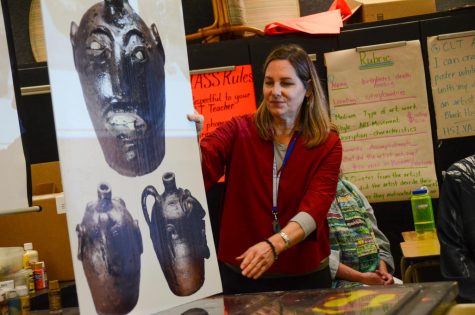 "It's helpful to learn a little bit of history everyday," stated Senior Hyatt Green on his view of the presentation.
A face jug is a ceramic vessel that was created by slaves that lived in North Carolina in a town called Edgefield. It is unknown why the face jugs were created or what they were used for, but there are several speculations.  One possible use would be as head stones for graves of fellow slaves; headstones would not be provided by the masters of the slaves, so many had to improvise. A second speculation is that headstones were used to ward off evil spirits.
Face jugs are significant in the art community due to the alkaline glaze being introduced to North America in the town of Edgefield. The glaze turns brown or green when fired and was used for creating the face jugs.
"It was art in that period; I think it's important to know that because it is so different from what we have today," explained Senior Yahaira Villanueva.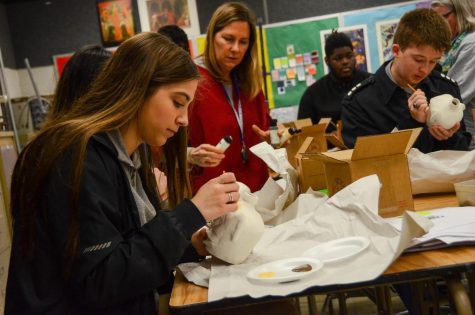 As art students learned about African American history, they had the opportunity to paint their own face jugs so they would have an opportunity to see how they might really look and imagine how they were created.
"Art history is really about the human condition and why [the art] was created," concluded Art Teacher, Melissa Hoseman.
About the Contributor
Sarah Katheron Latham, Assistant Editor
My name is Sarah Katheron Latham. This is my second year at Central High School, and my second year on the Central Digest staff. I enjoy singing, reading,...