COVID-19 Causes Changes Before the Holidays
The 2020-21 school year has been one of great changes. While the year started out with students participating in A and B days that were determined by last name, the county switched into Phase Three after about four weeks. Central remained in this stage for the entire first quarter and most of the second quarter. As Thanksgiving is on the horizon, there has been a change of plans. Upon returning from Thanksgiving break, the student body will once again be in Phase Two of distance learning.
In an email sent to administrators by Principal Phil Iannarone, the breakdown for the rest of the second quarter was explained.
"We will return on Monday, [November] 30, we will be on the A/B rotation as we were at the start of the school year. In-Person students with last names A-L will attend on Monday and Tuesday. Last names M-Z will attend on Thursday and Friday. Wednesday will be a virtual…day for all students.  All students will attend classes all [five] days that week just on the rotation described," stated Iannarone.
While most parties are already familiar with the change that is about to occur, there is one thing that no one is prepared for: the new testing schedule. Since there has been a switch of phases, each form of the test will have to be administered on an A-day and a B-day. Thursday, December 3, is the start of mainstream End-of-Course (EOC) tests, or benchmarks. These tests include Algebra I, Algebra II, geometry, English Nine and Ten, U.S. history, and biology.
Since the start of the testing schedule is on a Thursday, it will be B-day students who encounter exams first. Any English course exam for these students will be held on the December 3. All math course exams for B-Day students will be held on Friday, December 4. When A-day students return to campus on Monday, December 7 they will be taking all English exams. The math exams for these students will be held the following day, Tuesday, December 8. The next day, Wednesday, December 9, will be a day of rest, as far as benchmark testing goes. There will be no benchmark tests administered this day. Thursday, December 10 finalizes testing for B-day students. These students will take the U.S. history and biology exams if they are in those classes. A-day students will complete their testing on Monday, December 14. They will finish with the U.S. history and biology exams.
Courses that do not have county-administered benchmark tests will provide their exams on December 2, December 9, and December 16. Makeup EOCs will be held on December 9, December 11, December 15, and December 16. The final day for all students this semester is Thursday, December 17.
All at-home students are required to attend school on the days of their tests. During testing, in-person students will be in both D pod and E pod, and at-home students will be in B pod and C pod. If the a student is not testing they can choose to participate in distance learning. The students who are originally at home can be checked out by their parents after the exams occur.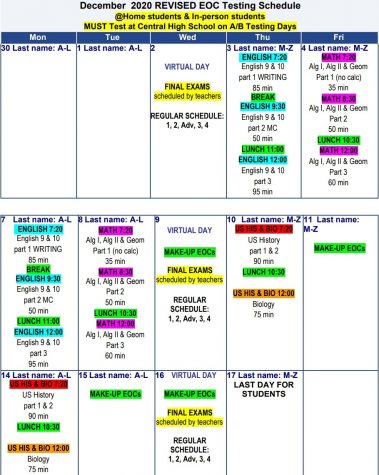 With all these changes due to the current pandemic status, there is no doubt that some of the student body is having mixed emotions.
"The schedule will affect me and I just know it will be a pain to be able to keep up with the schedule. I am not excited, but I have plans to stay connected through canvas and emails," Senior Maggie BoSauder reported.
Students are trying their best to keep up with the always-changing school situation, but sometimes it can be a hassle. The important thing to remember is it will only be temporary trials. Hamilton County and Central's administration are doing all they can to keep students safe during this time.
About the Contributor
Zoey Greene, Staff Writer
Shello! My name is Zoey Greene and I am serving as a staff member on the digest for my senior year. Most of my close friends and family call me Shell because...