Peggy Moyer Is Central's Teacher of the Month for March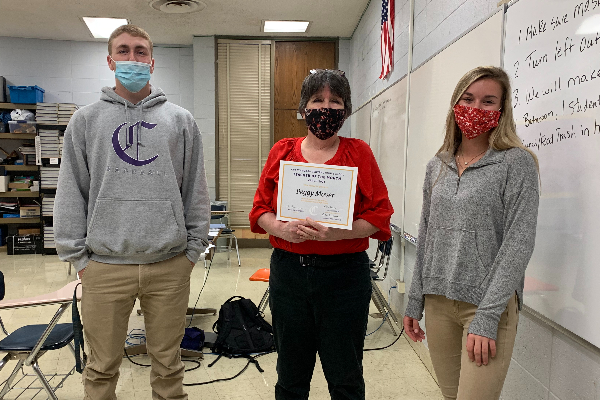 Another month means another teacher of the month at Central, and this month's student's have chosen none other than Algebra II teacher Peggy Moyer.
Moyer has been teaching at Central for 8 years now but previously taught at Red Bank High School for nine and a half years where she taught ACT Prep, Bridge, geometry, and Algebra before being hired at Central. This year she is teaching Algebra II as well as Edgenuity, but previously she's taught both AP and regular precalculus and calculus, algebra and trigonometry at Central.
When asked about how she's adapted to the changes and difficulties this year she responded,
"This has been a rough year.  I have learned how to use Canvas and Zoom.  I do like students submitting a copy of assignments since they can keep their papers to review from…I think math is learned by writing the answers – many electronic sites students learn the 'click patterns' instead of the math so I think basic worksheets are important…I look forward to getting back to traditional paper and pencil tests.  The pandemic puts more pressure on students to be responsible for their learning.  Some students do a great job asking questions either on Zoom or email and get answers…  Students that decide to be distracted have more options online – I can't walk by them and pull them back on task," Moyer responded when asked how she's adapted to the changes and difficulties of this year.
Along with her Algebra II and Edgenuity classes, Ms.Moyer is also involved with the National Honor Society. She works on service projects and helps out with the National Honor Society's meetings.  She also offers her students extra credit for attending her concerts as a part of a local orchestra here in Chattanooga.
"Ms. Moyer frequently gave us one-on-one time to go over tests and to make sure we understood. That was really helpful, especially for those who were too shy to ask questions during class. I also remember that she gave great advice about our future college plans. She was always quick to explain what we should consider for our last years of high school, including what to expect from the harder classes and what our next steps should be," Anna Frazier commented when asked about her experience in Moyer's class.
Additionally, Moyer is a second career teacher. Before becoming a teacher she was an engineer at McKee Foods before she decided to go into education. She expressed that after being both and engineer and an educator she has seen a lot of uses for math knowledge: in her previous career, when cooking, doing projects around her home, and making better financial decisions.
Despite the drastic changes made this year, Moyer has adapted to be able to help any and all of her students, whether they're in-person or online, and she has excelled under trying conditions. Moyer is a major help for all of her students and has made this year's wave of changes much less challenging for all of her students.  She has been a shining star in these dark times.