JROTC Instructor Ricky Franklin Retires After 14 Years Of Teaching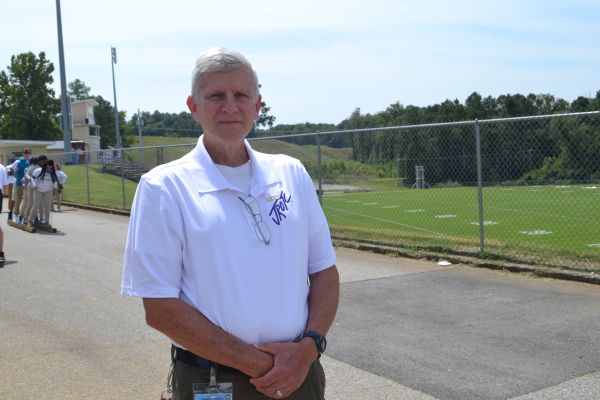 Central will be losing a staff member going into the next school year; Ricky Franklin, Central High School's JROTC Instructor, has been teaching at Central for five years.
Before pursuing a path in education, Franklin spent 24 years in the U.S. Army Infantry, working in a variety of different positions including Indirect Fire Infantryman, Squad Leader, Platoon Sergeant, Drill Sergeant, Company First Sergeant, and Battalion Operations Sergeant Major. During his time in the Army, he spent a year in Ramadi, Iraq, during the War on Terror, and received the Global War on Terrorism Service Medal. In 2007, after 24 faithful years of military service, Franklin retired and went on to become a JROTC instructor.
Franklin first came to Hamilton County in 2008 with his wife Pam, after having accepted a position to teach Leadership Education as a JROTC instructor at East Ridge High School. Once he left East Ridge, he went on to work at Red Bank High School in a similar position, and has, most recently, come to work at Central beginning as a JROTC instructor for the 2017-2018 school year. Now, after 14 years of working as an educator in the Hamilton County school district, and 24 years serving in the military, Franklin has decided to retire.
Franklin had made a plan to "…get out and see this wonderful world when you can". After his retirement, Franklin plans to travel around the country with his wife and visit as many states as he can, as well as spend more quality time with his children and great-grandchildren all while still living in Hamilton County.
Erickson Frias-Cruz, one of Franklin's students, fondly said, "SGM Franklin was the person who truly inspired me back in my freshman year; he showed me how I can achieve anything as long I stayed true to myself… I doubted myself when I first joined the JROTC rifle team, but he encouraged me and taught me the ropes to bring my skills to where they are today."
To the students and fellow teachers he is leaving behind, Franklin had a few more words of meaningful advice.
"
"Make the world a better place while you are here… each of us has the ability to influence others and we should try our best to be a positive influence."
— Sgt. Maj. Ricky Franklin, who will retire at the end of this school year