Longtime Counselor Karen Atkins Retires After 37 Years at Central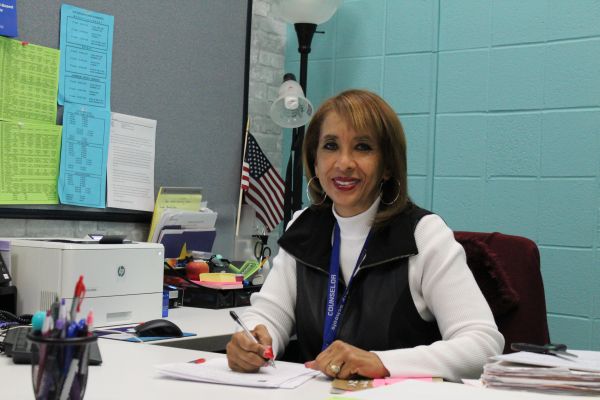 After a very lengthy career, Central's current longest-serving teacher, Mrs. Karen Atkins, has announced that she will be retiring. Her last day was Friday, November, 4.
In an email to the school staff, Atkins said, "It is with a heavy heart that I share my plans to retire effective November 4. I have enjoyed my 37 years working as a professional school counselor here at Central High School. I am honored to end my career here."
She added that she wanted to thank everyone at Central for their support during her many years in education.
Not only was Mrs. Atkins on staff here, she also graduated from Central before starting as a counselor in 1986. Before coming to Central, Mrs. Atkins was a physical education teacher, but  decided that she did not want to do the coaching that came with it. She was even offered a job as a flight attendant through Eastern Airlines, but did not take it because she wanted to become a counselor to help students in need of someone to talk to.
"I loved most of my time here," she stated. "I always enjoyed waking up in the morning to make a difference in someone's life here."
She added that there have been ups and downs over the years — as with any job, but she made it through because she loved what she did.
"I enjoyed it so much that I would never comment or allow family members or outsiders to say anything negative to me about Central because purple runs in my veins," she said.
Although many people have been helpful and kind over the years she wanted to especially thank someone she has worked closely with during her time working with freshmen students.
"One person who made a big difference in my experience here at Central was 9th grade principal Mrs. Michelle Cochran," she said. "She has been all about teamwork and bringing the guidance counselors closer together than ever before."
Since 2019, she has worked with the JV cheerleaders and the band's majorettes. She was even chosen by the Central Class of 2005 as class Dedicatory.
"It is going to be sad when she goes because she is a staple and you see her everywhere," explained Mrs. Stacy Alexander, Central's college access coordinator. "It is an exciting time for her to start something new with her family and I am extremely excited for her!"
In a statement, the counseling department of Ms. Chelsea Thornhill, Ms. Sara Thomas, and Ms. Olivia Nugent wished Mrs. Atkins well in her new endeavors.
"We are excited to see where life takes her! We know she will have a fun retirement," they shared.
"It truly has its mixed emotions. I am always sad to see a team player leave, but I am excited to see her start a new chapter and move on to doing more for herself instead of others. Although we are happy for her, we are all truly going to miss having her around."
Her husband has a land-clearing business and a farm. Her main goal is to complete a visit to all 50 states, and plans to spend more of her time with her family.