A Goodbye to a Good Man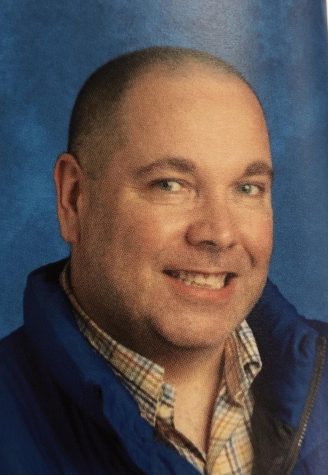 The Journalism staff has lost a valuable member. Mr. Greg Cantrell, our beloved teacher, and leader of the Central Digest has left Central High School after eleven years of teaching. Cantrell is now headed to CHI Memorial Hospital.
Greg Cantrell will be missed at Central. He was always ready with a joke or a smile, especially when he wanted you to log Coca-Cola lids to raise funds for the website. The Digest has always loved the smiles that he gave us and how much he cared for each and every one of us.
"He's just always so fun to be around. I always loved goofing off with him and also working with him, and I'm just so thankful that I got to have him as a teacher, I wouldn't have anyone else be the teacher for the Digest. His sense of humor, and how open he is is something I admire. He has quite a personality and I don't think anyone could replace it." -Meryl Turner
"He would always help me with college and give me advice. I admired how blunt he was, he was incredibly blunt and I love that he didn't sugarcoat things. If he needed you to get your act together he would tell you and I loved it." – Mackenzie Farner
"We would always hang out and talk about anything, he was the best person to rant to about anything. He was just the best. He would always give the best life advice and I have learned so much from him that I still use today. He had so much love for us as a journalism class. He's such a great teacher and he went through so much, I hate that he's not here, but every day we walked into journalism he was ready to help and he supported us, he was there for us, and it's so sad that he's left, but I know that he's loving his new job. He's an inspiration and the reason I continue the Digest." – Amber Burchfield.
"Every day he'd bring an excitement to each class, that I feel like I didn't get from a lot of teachers, and that made me actually want to do the stories and just made me feel better." -Ryan Brown
"He used to keep us on our p's and q's. He motivated us to do better. He would keep it real." – Dariah Bradley
"He was funny and helpful and he always made sure we didn't need help with our stories or just if we had any questions. He was a fun teacher, he was my favorite teacher and he still is my favorite teacher. He was never mean, he was always nice, and he had a good personality." – Miracle Strickland
" I like how he went around and was specific with people. He always asked 'hey how is everything' and you know, he cared. He made sure that we were always on the right track." –  Alejandra Vargas
"He would always tease me, involving somebody. Almost every day he would tease me about it. It was good-natured and funny." – Maddox Tucker
" On the bowling team, every time we would hit he would encourage us even though he couldn't bowl. He would always say "just because I can't do it doesn't mean you can't do it" it was funny. He was such a good coach, it was fun." – Katie Garnand
"In bowling, he would, when you got a strike, he would pat you on the back and say "do that again, I know you can probably do that again." He was always gossiping, we would get the best tea from him. It was great." – Alyssa Fax
" Every single time I came into his classroom, he's always made me laugh and made me feel like I can talk to him about personal stuff that's going on in my life like with work or other drama. He always made me feel better about it, and gave great advice on it." – Ashleigh Vaughn.
"When I first came to this school, I was scared and overwhelmed, but from day one Cantrell just took me under his wing and made sure I was ok. He was kind, and always ready to offer you a smile or a laugh. We will miss him, but we know he's doing well in his new job, and we all love him." – Isabelle Martin
We've all had our memories with Cantrell, whether it be as a coach, a leader, a teacher, or a friend. It's safe to say that Cantrell will always be deeply missed by the Digest and will always be known as the best leader the Digest has ever seen.