Editorial: Summer's Tragedies Touched Central Students, Too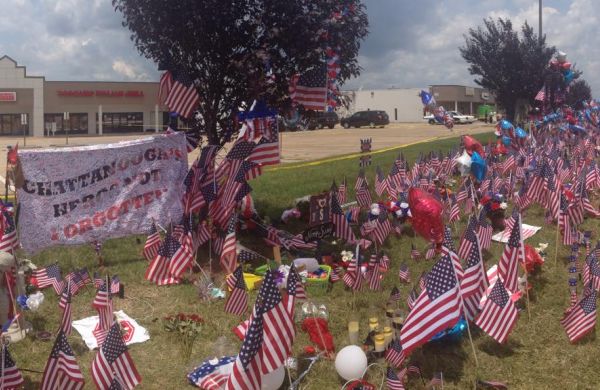 You hear about shootings and terrorists attacks in the United States or in other countries on the news all the time. You feel hurt and sorrow for the city and for those involved. You never imagine that something like that could happen so close to home.
While students at Central High School were out tanning on the beach or watching Netflix in bed at home, four American Marines and a U.S. Navy Sailor were shot and killed on their own soil right here in Chattanooga, TN.
On July 16, 24-year-old Muhammad Youssef Abdulazeez opened fire at two military recruiting centers in Chattanooga. The first attack, a drive-by shooting, was committed at the Armed Forces Career Center on Lee Highway, only 11 miles from Central High. Abdulazeez pulled into the parking lot in a rented silver Ford Mustang and proceeded to fired off 25-30 rounds at the recruiting center, where he wounded one U.S. Marine.
Minutes after his attack on the Lee Highway Center, he drove to the U.S. Navy Reserve on Amnicola Highway with police officers in pursuit; there he drove through the chain-link fence that surrounded the recruiting center and entered the building on foot. Inside the building, he shot and wounded one U.S. Navy Sailor, Officer Randall Scott Smith, who later died from his injuries. Abdulazeez continued outside to the motor pool where he killed four U.S. Marines – Sergeant Carson Holmquist, Staff Sergeant David A. Wyatt, Gunnery Sergeant Thomas Sullivan, and Lance Corporal Squire "Skip" Wells.
"It was a tragedy that we as students need to learn from. We can honor the lives of the fallen servicemen by paying tribute to our country," stated Hannah Holmberg, a junior at Central High School who was touched by the event in a way many teenagers were not.
In the military, soldiers and other servicemen are taught respect, focus, drive, leadership, and courage, among other traits. Students can be all of these things with a little bit of effort. So why not honor the servicemen who died protecting this country by being all the things they were? Respect your teachers, focus on getting that 4.0 GPA, push yourself to do better each day, be a leader to those who need direction, and have the courage to speak up when others refuse to. Honor the men and women who fight for the freedom of this country and those who die protecting the American flag every day.
"Let's have a good school year to honor their legacy, because that's something we can do," Hannah added.
"I just think we could all be a little bit more conscious of the sacrifices that have been made by the men and women who have served, who are serving, and who will serve. My concern for Central and for students here is just to be mindful and to be careful. If Mr. King has some kind of active shooter drill or an intruder drill, students needs to take that seriously," said Lieutenant Colonel Bill Brooks, Head of the JROTC Department.
Let's honor the legacy of the fallen by being all of things they were and can no longer be. Let's be mindful of the sacrifices that have been made and will continue to be made for America. Let's be "Chattanooga Strong".