SRO Discipline: Does It Go Too Far?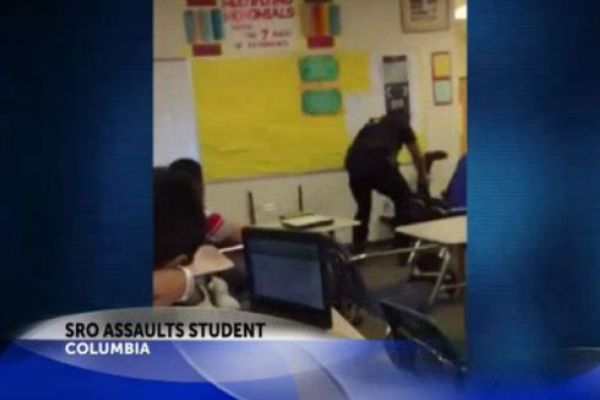 Hang on for a minute...we're trying to find some more stories you might like.
In today's world, there are a lot of dangers to students. For example, 38 school shootings took place in 2014 alone. This and several other reasons are why many schools nationwide have Student Resource Officers, or SRO's, present throughout the school day. People are beginning to question the purpose of these SRO's recently and how they truly help the school.
The most recent case of this was on October 19 at Spring Valley High School in South Carolina, where Sheriff Deputy Ben Fields "dragged and then threw a female African-American student across a classroom." Many people believe that this was an unnecessary, malicious, brutal attack of a white police officer to a black teen. Others believe that it was the student's fault and the officer's actions were justified. Either way, if the student had acted appropriately and done what she should have, then the officer would never have had to get physical, if involved, at all.
"Yes, the officer may have used some unneeded force. [But] if the girl had just cooperated, he never would have had to get involved," said Officer Dodson, SRO here at Central.
The confrontation began when the student was asked to give up her phone to the teacher for breaking the school's "no phone" policy. When the student refused, she was told she was disrupting class and to please leave the classroom. After many attempts to get the student to leave, Officer Fields was called to the class. He asked the student one last time to leave the class and then tried to lead her from the class. The young girl then began to physically attack the officer by striking him in the face and chest. He did as he was trained and restrained the girl, first attempting to do so in the desk, then forcing her from the desk and onto the ground, where she continued to fight back. He finally got her to the point where he could get on top of her to keep her calm and get handcuffs on the girl.
"It was crazy — Deputy Fields was always nice to everyone," revealed Quentin Jones, sophomore at Spring Valley.
According to NY Daily News, "Fields looks after young kids at Lonnie B. Nelson Elementary School in addition to Spring Valley. It's there Principal Karen Beaman gave Fields the Culture of Excellence Award in 2014 for being an "exceptional role model to the students he serves and protects."
Some believe that the officer was called as a first resort, and that he was not needed for the situation, so his actions were very unjustified.  They say that the officer used very excessive force and techniques that were not needed for the situation. Officer Fields was fired due to all the criticism received to the system sheriff department and the school.
"He picked a student up, and he threw the student across the room; that is not a proper technique," Sheriff Leon Lott of Richland County stated at a news conference in Columbia.
In this case, the officer was blamed for the confrontation when he was just doing his job the way he knew how. But as time goes on many more occurrences like this will happen again and again, because violence is almost a part of life. We just have to avoid it, then choose our side when these confrontations do occur.

About the Contributors
Matthew Davis, Assistant Editor
Hi! I am Matthew, and I am a Senior here at Central. I am a member of the Central Sound marching, concert and jazz bands (award winning bands, btw!). I...