"Red Queen" by Victoria Aveyard: A Book Review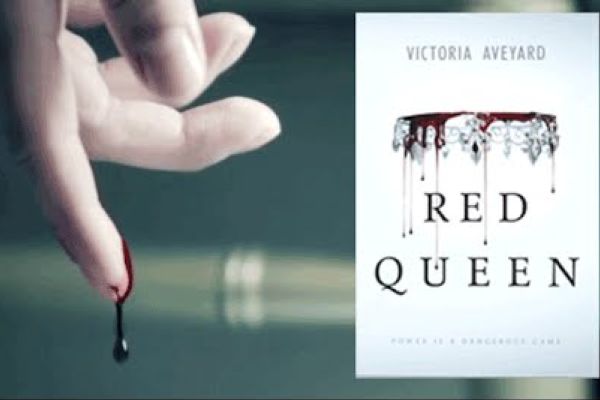 The 17 year-old pickpocket, Mare Borrow, the protagonist in Victoria Aveyard's Red Queen, is living is a poverty-stricken village, The Stilts. She's a commoner, a human, and a Red. Mare Borrow's blood runs crimson.
These poverty-stricken villages are everywhere across the vast country of Norta, a dystopian world ravaged by war. The country is ruled by the Silver, an elite group of superhuman, "godlike" figures with superpowers, such as control over fire, or control over someone's mind. Their blood even drips silver.
The Red's are different; they are useless, only good to work for the Silvers as servants, or to run their factories. Rebellion is strictly forbidden and even the thought in the mind of a Red against the Silver elite could be their end. The reds are simply tiny fish living in a sea of sharks.
Nothing was different in the life of Mare Borrow, until she meets Cal, a kind-hearted, selfless boy, who offers her a bit of money while outside a bar. Cal happens to be a prince, a Silver prince, not too far from the crown himself.
Mare Borrow is integrated into the lives of the Silvers as a servant until she realizes that she, a Red, has superhuman powers, something entirely unheard of in this dystopian society. In an attempt to hide her new-found powers, the King concocts this story about Mare, claiming she is the lost daughter of a war general, and is not really a Red, but instead says she's a Silver raised in a Red family. To hide her secret and to avoid questions from other suspecting Silvers, Mare is betrothed to a prince, Prince Maven, Cal's younger brother.
Throughout her time in the palace with her new fiance and the other Silvers, Mare is put against her own nature, wondering which line to cross, where to go, and who to trust because she knows that with trust, comes betrayal.
Red Queen is an enticing story full of action, romance, trust, betrayal, and power. Though it is eerily familiar to many major Young Adult novels such as Divergent, The Hunger Games, and Red Rising, the story is still fresh and original, full of hooks and an ending with a cliffhanger like no other.
Red Queen was awarded the 2015 Goodreads Choice Award for Debut Authors, and was nominated for several other awards last year.
If you're looking for a fast-paced, action-packed, page-turner, Red Queen has it all.
The Central Digest gives Red Queen four out of five smashing hammers!