Editor-in-Chief, Savannah Smith, Hangs Up Clipboard and Says Goodbye to the Central Digest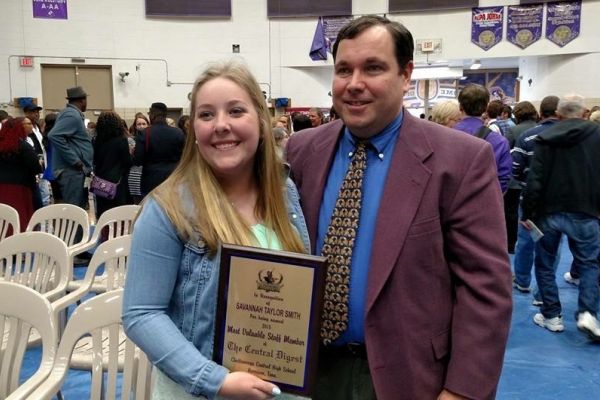 Goodbyes are bittersweet. They can be sad, happy, relieving, or even heartbreaking. No goodbye, however, could ever describe the 3 amazing years of being on the Central Digest staff and how in only a few weeks, I will have to say my final goodbyes.
I grew up wanting to be a doctor. All through middle school and my first half of high school, I wanted to help people. I knew exactly what medicine I wanted to practice, and I had my whole career and future planned out in front of me. However, it was not until my sophomore year when I walked into B-109 that my whole life changed in an instant. Being a part of something special made me feel special too. The Central Digest showed me that English is more than just writing essays and reading books, but that it is all around us. It taught me to go past my boundaries, to show people who I am, and to not only be more confident with my writing, but as a person as well. Without the Digest or the idea of journalism in general, I would never be able to have done the things I have done these past three years.
From sitting in multiple alumni meetings, eating fried ravoli and dipping just about everything in the chocolate fountain at the Golden Corral, watching many episodes of Dancing Kim and Maal the Pimp, taking pictures at sporting events, interviewing Central stars and even international rockstars, and overall just making my day above average, the Central Digest made my high school experience amazing.
To my staff:
I do not know what I would do if I never had a staff as amazing as you all have been! Without your work and effort, placing in State and winning the SNO Website of Distinction would never be possible. I know some days have been really stressful (when is high school not!), but you guys stuck around and for that I applaud and say thank you.  I wish you the best of luck to what the future endeavors for you. High school is short and it flies by…make the most of it! And most definitely, all your hopes and dreams for the future can come true if you have the courage to pursue it! Good luck my loves and keep dancing!
To my Editor, Shelby Campbell:
Thank you for the many, many years of friendship. You are not only a beautiful person on the inside ,but you are on the outside as well. Without you to keeping me balanced this school year, we would have never made it to state and I am totally indebted to you for that. I know you are gonna do amazing things one day, and I can't wait to see what is in store for your future.
To my Columnist, Jared Eddy:
You are the heart and soul of Central High School. Thank you for sharing your bright spirit and your love of your school everyday not only in journalism, but in everything you do. Thank you for being there for the staff and thank you for everything you do Jared. I know you are going to do amazing things and you are going to go far in life. Good luck for your future endeavors and never give up… even if it is a 500,000 dollar track.
To my best friend, Matthew "Mattikins" Davis:
No words can describe how lucky and grateful I am to call you one of my best friends. From listening to all of my boy rants to breaking our legs at prom and kicking your butt at bowling, you have always been there for me. I wish you the best of luck for your last two years of high school. I know you have big things coming up, and I know that whatever your future endeavors hold for you are only going to get better. Make a legacy for yourself and make the most of your high school experience. I am going to miss you so much, my love, keep in touch.
To our new Editor, Jake Johns:
Where to begin sweet angel. Thank you for your bright charisma and your dedication to not only the digest, but your school as well. From our Ariana Grande karaoke car rides to our fun memories during color guard season, it's so sad to say goodbye to those memories. You have been doing amazing things on the Digest, and I can't wait to see where your endeavors take you. Look…there are some real mean people out in the world, don't let them define who you are! Only you have the power to stay strong Jake because at the end of the day, WE LOVE YOU FOR YOU! Keep the guard in line for me too! I am just a phone call away!
To our new Editor-in-Chief, Preston Gilbert Fore
I remember when you were just freshman! I've watched you grow into one of the most intelligent people I know. There is no one else I could pass the Editor-in-Chief torch to other than you. I know you are going to do great things on the staff and just in life as well. Win that state title for us next year! Have fun these next two years and keep the staff in check! And good luck on the bass fishing team and basketball squad!
And finally to our advisor, Mr. Gregory Cantrell:
Your goodbye is probably the hardest one to do. You taught me so much more than how to be a better writer, but how to be a better person and for that I am totally indebted to you. Thank you for your guidance through high school and just life in general. You were basically like a second dad to me and I cannot imagine what my life would be like if I never signed up for journalism my sophomore year. Without your class, I would have never gotten into the University of Tennessee, and I would never be doing color guard or be the writer I am today without you. I cannot wait to tell you about college, I cannot wait to tell you how amazing my life is going to be all because of you! I am only 101 miles away, but I will always remember you and our many memories. And remember, brownies are done, but papers are finished!
Thank you to our amazing alumni association and to our readers. Without your support, we would have never placed at state or won the SNO Website of Distinction. Thank you being our drive and motivation to keep informing and writing stories about our amazing school.
Central will forever and always be in my heart for years to come. If I never attended this amazing school, I would never be the person I am without it. Thank you Central….once a pounder, always a pounder.
Keep dancing,
Savannah Smith, Class of 2017
"How lucky am I to have something that makes saying goodbye so hard," Winnie the Pooh.
About the Contributor
Savannah Smith, Editor-in-Chief
Hi, my name is Savannah! I am a senior and this is my third year on the Central Digest Staff! I am the Editor-in-Chief for the Digest and I would...