Students and Faculty Ponder The Meaning of Life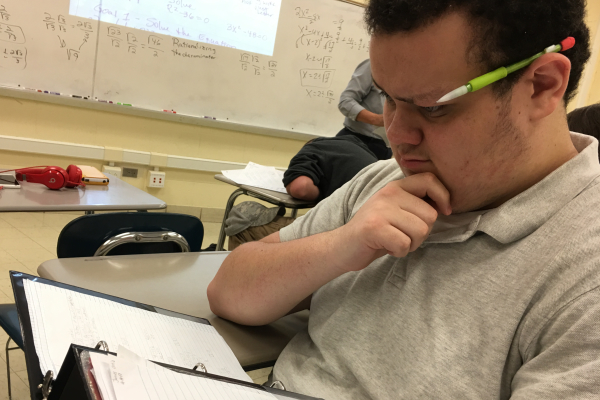 Students have been asked about their future plans countless times, typically answering with the college and career they would like to pursue. There are many students, however, who are still unsure about what path they want to take. Realistically speaking, it takes time to be hired by the business of one's choice, since experience and further education plays a big role in most career choices. Even some students who have a general idea of what they will be doing post graduation have not thought so far ahead. With that being said, the student body is grappled with the perplexing question of what the true meaning of life is.
"The meaning of life is having a purpose," declared Sophomore Sanaa Hicks, "Other than that, if we don't have a purpose, then why would we be here?"
Most people would like to leave behind positive memories for their friends and family. These individuals strive to make their mark on the world, hoping to leave a lasting impression.
"The meaning of life is to make the biggest impact on the people that you can [in order]  to help them out. Live life to the fullest without worrying about what people think of you," suggested Junior Hannah McKinney.
"Family and friends are important. I think that's where the meaning of life comes in," stated Algebra 2 and Calculus teacher Peggy Moyer.
"To me, the meaning of life is to do your best while you can, with the time you have. You should be the best that you can be," Sophomore Devin Crockran expressed.
"The meaning of life has to be to fall in love and collect experiences to share them with people so that they'll have new stories," Sophomore Morgan Snyder divulged.
On the other hand, some people have set specific, more humorous goals in their life. These students take on life day by day, and try to make their time enjoyable.
"The main goal of life is to become so rich that you can go to any restaurant and order without even looking at the prices," shared Sophomore Abby Young.
There are a lot of people who are especially supportive of service and giving back to the community. They believe that doing good for the world is an achievement and an integral part of everyday life.
"The meaning of life is to grow yourself in a way that can also grow others. What I mean by that is to grow your skills mentally and physically [in order to] try to help others because we're here for a short time," elucidated Senior Saige Lowery.
"For me, it would have to be creating opportunities for people younger and people less fortunate than me," revealed Principal Finley King.
Others value self improvement and self discovery. To this group of individuals, learning about yourself should be a rewarding and inspirational experience.
"The meaning of life for me is to learn who we truly are, be something that you wanted be, and to love," revealed Freshman Karen Castillo.
"Be happy and do everything that you would want to do in life, except for the morally wrong stuff. Just live life by setting goals, achieving them, and influencing people in good ways," advised Senior Mitchell O'Neil.
Most people acknowledge the plight of life as a challenge, not a setback.
"I've struggled a lot in my life, but its at those moments you learn to overcome certain things. The meaning of life is to struggle so that you can get back up and keep going," stated Freshman Nicolas Burroughs.
Surprisingly enough, there were many students that believed in a sort of morbid meaning to life.
"The meaning of life is death. We live to die," affirmed Sophomore Jaheim Williams.
"The short answer to that question would be absurdism," said Sophomore Vani Carter.
"The meaning of life is to get through it, die, and go to heaven," answered psychology and sociology teacher Tina Staton.
For some, the meaning of life was a bit too much to fathom. It was hard for these people to conjure up one distinct definition of living."To me, the meaning of life is nothing in particular."
"Some people think of life as survival, but I think it's more than that. If you just live life to the fullest, then you can make life be the best it can be," Junior Nyesha Smith.
"There isn't a specific answer to what the meaning of life is," admitted Sophomore Jasmin Gutierrez.
"I guess the meaning of life is not knowing what's coming next, because our reaction to everything can put us into the direction we want to go," Freshman Erin Taylor decided.
The meaning of life may be some of these things, or none of them. Maybe it is a combination of everything.
"Life to me means happiness, sadness, pains, tears,  joy, and love. To know the meaning of life you have to know yourself. Life has its complications, deaths, ups and downs, tears of joy, and pain, but getting through all of it makes you stronger so that you can live life," Junior Britnee Fitch concluded.