Editorial: Is TNReady Testing a Waste?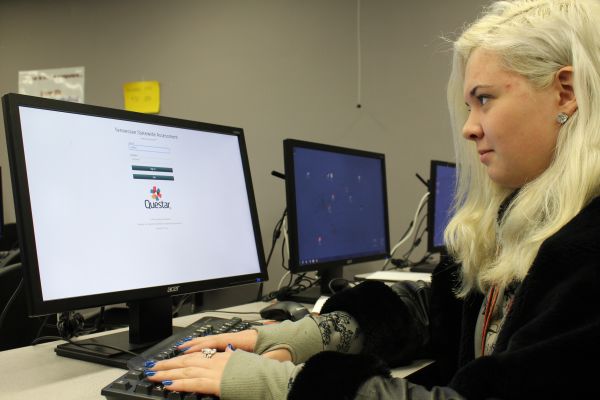 In recent years, standardized tests have become a focus point for the education system in the state of Tennessee. These tests are designed to test students on the important information they should have learned throughout the school year, in a way that gives all students a fair chance for success. However, some students crack under the enormous amount of pressure put on them over these tests.
"I am usually a good test taker, but I know many of my fellow students may struggle with standardized tests and feel as if they are cheated out of the recognition they deserve for their intellectual abilities," revealed Junior Laurelie Holmberg.
Even with all of the work put into these assessments, they do not always occur as planned due to an array of factors. Sadly, this failure of student testing has occurred since the beginning of the "TNReady" program in 2016.
According to tennessean.com, the 2016 TNReady assessments were cancelled statewide due to server problems. The tests were completely cancelled in elementary and middle schools, while high school students were able to take a paper copy. Even so, these paper tests did not count for students either due to the length of time required for grading of the assessments.
For the 2017 spring testing marathon, the Tennessee Department of Education fired the test vendor, Measurement Inc., and hired Questar Assessment to administer the test, hoping this new vendor would provide a more positive overall testing experience. However, the tests scores were not including in final grades, once again due to the extensive amount of time the grading of these assessments takes.
The entire state hoped that 2018's testing season would be completely different from the previous years. However, this year's testing extravaganza followed the historic trend. On Tuesday, April 17, the second day of statewide testing, many students began to have problems signing in to the testing program. Later that day, the Tennessee Department of Education announced that the test vendor, Questar Assessment, encountered a cyberattack and briefly shut down the testing program. This attack not only affected Tennessee students, but also five other states the company manages online testing for.
Thursday, April 19, the Tennessee General Assembly struck a deal that ensures this year's tests will not be held against students, teachers or public school districts. The deal stated that scores would only be counted if they benefit those involved.
" The idea of these tests not counting makes me slightly agitated because I worked extremely hard on preparing myself for these tests. Now I have even more finals to cram for because the state of Tennessee is unreliable," expressed Holmberg.
Although some may be happy about the possibility of these tests not counting, they require so many important resources that it is truly wasteful for students to take them for no reason. TNReady testing takes over two weeks, having two tests per day, totaling around 5o hours or 7 full school days of testing. This is time that could be used in the classroom, which would allow teachers to teach more material, more thoroughly.
Along with time, these tests also take limitless amounts of money. The Questar Assessment program alone costs the state $30 million per year. This huge amount of money could be used for many other useful things, from things as simple as providing classroom supplies to larger projects such as building improvements for schools all over the state.
"Testing could be a lot different. Sitting and doing this much testing is a waste of time when we could be learning," shared Sophomore Isabella Bolton, "High schoolers get really stressed out about these tests because they are way too emphasized. Grades have become so much more important than what you actually learn, so people will cheat on tests and then, by that, miss the whole point."
This new form of online testing could eventually provide many benefits, but so far has proven to bring more harm than good. Tests rarely fail when taken with pencil and paper, and the state should recognize that and stick with what works. Time and money are two very important factors in education which need not be wasted by the TNReady testing.