Students Prepare to 'Haunt' the Halls of Central High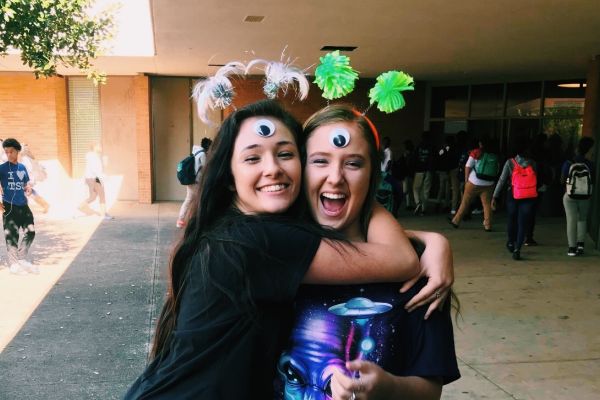 With Halloween being right around the corner, students around Central are making preparations for the holiday. They are getting ready by watching scary movies or planning their costumes. Whether students have decided to visit a haunted house, attend a Halloween party, go trick-or-treating, or just pass out candy, they are hoping to make the most of this spooky celebration.
Halloween dates all the way back to the eighth century, originating from the Celtic festival of Samhain. This was a tradition where people lit bonfires and wore costumes to ward off ghosts. In the eighth century, Pope Gregory III declared November first as the time to honor all saints, making it All Saints Day. However, the day before was known as All Hallows' Eve. Over time, this day would come to be known as Halloween.
Since then, Halloween has evolved into a holiday where people partake in various traditions. For instance, eating candy, donning incredible costumes, carving jack-o-lanterns, or trick-or-treating, which is arguably the most important of these, are all rituals that students take part in each year.
As kids get older and become teenagers, the Halloween spirit begins to fade, and more and more students begin to lose interest in the holiday. The memorable moments of going from house to house to collect free candy don't create the same effect on them like they used to.
"I'm not trick-or-treating this year," admitted Junior Jordan Lowe, "I'm 16 years old and I've had my fair share of free candy. It's time for these new little kids to get candy. A lot of people in high school also have to work, which can also keep students from celebrating. If we really want candy, we can buy it ourselves."
This dismissive attitude towards the holiday seems to be a trend among the student body. Most students want to give the newer generations the same amusement that they once experienced as children themselves.
"I'm not trick-or-treating this year, because I simply love handing out candy to all of the little trick-or-treaters," revealed freshman Freshman Ella Duggar.
Despite the opposing enthusiasm other teenagers may express for Halloween, there have been reports of communities placing an age limit on on trick-or-treaters. The city of Chesapeake, Virginia has already declared that anyone over the age of 12 is legally prohibited from going door-to-door receiving free candy. The ordinance code stated that anyone who broke the law could be fined $100, and be sentenced to up to six months in jail.
Regardless of what students decide to do on the 31st, the staff and administrators are hoping that everyone will be able to safely enjoy their night.