Editorial: Just How Important Are Fine Arts?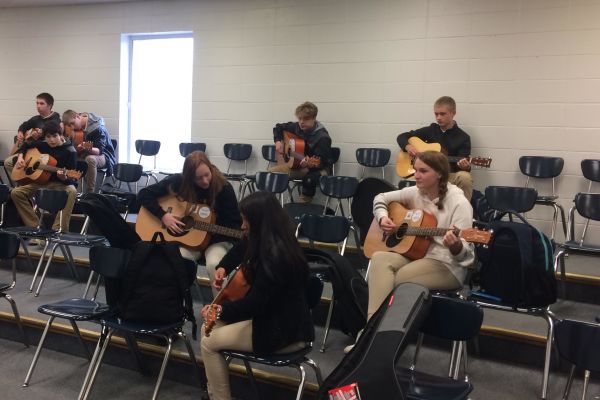 Over the years, there have been many heated debates on whether or not fine arts education is beneficial to students in schools. Some people claim that it is too costly and needs to be cut from the curriculum, while others believe that they are beneficial in more ways than one.
According to The Center for Online Education, researchers determined that students who received more arts education did better on standardized tests, improved their social skills, and were more motivated than those who had reduced or no access. For example, researchers have found students who participate in the arts tend to have higher math scores in standardized testing. Central students who contribute to artistically based classes have shown academic improvement as well.
"If I look at band or choir students, their math scores are higher than those who are not involved in those classes," explained Principal Finley King.
 While people are supportive of these classes, others tend to shy away from them.
"[The school districts] look for ways to cut the budget because they see these classes as 'extras', but thankfully, our superintendent is a big advocate for the arts," divulged King.
Mr. King is not the only one who sees this as an issue, teachers teaching these programs are also concerned for the lack of concern the district provides for art classes.
"The importance of Arts Education is often overlooked in our schools. Due to the need to perform well on standardized tests, there is a great deal of emphasis on core subjects. Art programs are often eliminated, or at least, underfunded," vocalized Mrs. Katheron Latham, the Choir director here at Central.
Another issue that comes across is the community putting their focus on sports rather than supporting the band or choir. Many people believe that sports have taken over the attention leaving Central's art programs to the side. However, Mr. Joshua Bloodworth, director of Bands here at Central, does not believe that this is a dilemma.
"It is not, and has never been about, an 'us or them' mentality. It is not arts or sports, just like it is not math or music. It's both/and, with both supporting each other and with both being supported by the community. Frankly, it seems to me that all school-related programs, whether curricular or extra-curricular, always need more community support," Bloodworth affirmed.
While Mr. Bloodworth believes that both need more support, Mr. King wishes to see more support with the arts, specifically the band.
"I would love to see as many people come to a band concert than they do a football game. Our band could really blow them away!" King exclaimed.
With all of these varying opinions, there is still one question left: What is the purpose of fine arts education?
"Fine arts education is teaching students to experience, appreciate, perform, and participate in the various art forms. The goal is to produce lifelong learners who are supporters and/or participants in the fine arts for their entire lives," asserted Bloodworth.
Mr. King believes that the function of the arts is to reinforce core classes, and show that everyone is smart in different ways. He would also like to expand Central's fine arts programs.
"I would love to grow and continue to add fine arts electives to Central. We are one of the few schools that has a jazz band and a guitar class and if I ever win the lottery, I want to buy Central a piano lab to teach piano. The fine arts are the icing on the cake here, and I believe that our fine arts programs are the ambassadors here at Central," concluded King.