Editorial: What is Central's Favorite Girl Scout Cookie?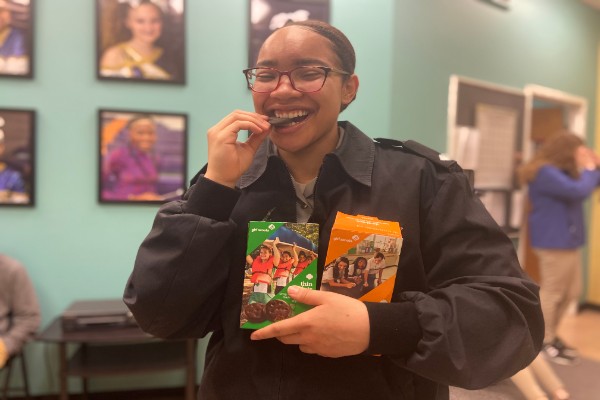 Most everyone has been in a similar situation; you have probably walked up to a grocery store or restaurant, only to be bombarded by an army of little girls. They are cute, but very intimidating. If you not buy their cookies, the children still treat you with kindness, but that typically leads to the biggest guilt trip of all time. Yes, it is Girl Scout Cookie season.
There are a myriad of flavors that the Girl Scouts provide. There are 12 different types of the cookies, ranging from s'mores to Lemonades. The main ones everyone rages about are Thin Mints, Samoas, Tagalongs, and Do-si-dos.
I tasted all these main cookies, and here are my opinions about them:
Thin Mints are my absolute favorite Girl Scout Cookie. They are crispy with the right amount of chocolate coating covering them. They stay true to their name, as their thinness is truly a delight. A lot of people do not enjoy mint and chocolate, but I always say those people's taste buds are weak. I give them a solid ten out of ten.
Samoas used to be my favorite cookies. They are made up of caramel, chocolate, and coconut. However, while they are still pretty good, they are just basic. Any grocery store you visit will have Samoas. They may be off-brand, but they taste the same. Samoas just do not have the same pizzazz as other Girl Scout cookies. They are still delicious, so I rate them a seven out of ten.
Tagalongs are very underrated in my opinion. Who does not love chocolate and peanut butter? I love the combination of the ingredients and the crunchiness that follows the initial soft bite of the peanut butter. They even melt in your mouth a little. Overall, Tagalongs almost take over the number one place of the Thin Mints. I give them a nine out of ten.
Do-si-dos are underrated, but they deserve it. I tried them for the first time just a little while ago, and I understand why. I was excited when I learned they were peanut butter, but the plain oatmeal cookie surrounding it is kind of dry. There is not much flavor in the cookie compared to the others. Overall, they were a big disappointment. I rate Do-si-dos a five out of ten.
You have heard my opinion about these cookies, but is there one true favorite among the students of Central High?
"While I may not like peanut butter alone, I love peanut butter flavored things. So Tagalongs are my favorite, I guess," Senior Elena Salgado said.
"Thin Mints are my favorite because you get the spearmint taste, then, you're hit with a good chocolaty taste," Junior Shawn Hudgins stated.
"Samoas are good because the coconut and caramel," Senior Freedom Bell voiced.
"Thin Mints are my favorite because they taste so good," Freshman Ozsair Mustafa said.
"Samoas are good because they have a lot of flavor," Leo Hussey stated.
"Samoas are so good and sweet. I also love the texture," Senior Brandon Henderson said.
Coach Tray Martin's favorites are Trefoils. Malinda Martin, the librarian, loves frozen Thin Mints and Samoas.
Samoas and Thin Mints seem to be the clear favorites between all of the Girl Scout Cookies, at least for Central High students. Take this poll so that we can find out the true winner of the battle between the cookies.

Loading ...