The Long and Winding Road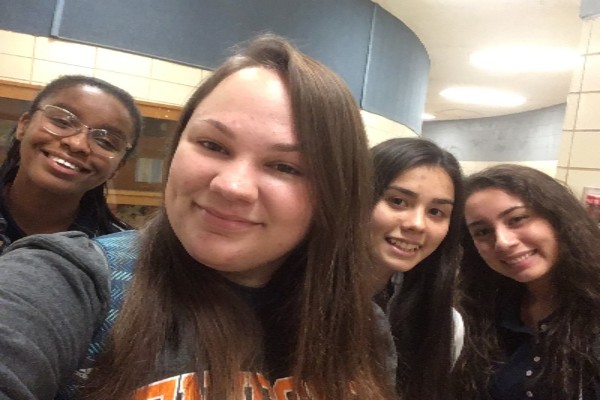 This is definitely a hard story for me to write, as goodbyes are always difficult. My last story for the Central Digest is not something I have given too much thought to during my high school career; I thought I had all the time in the world at Central. Now, as I am staring at my computer screen, trying to figure out what to write, I realize how quickly this time sneaked up on me. However, I never thought my four years would have ended this way.
My two years on the Digest have provided me with laughs, tears, stress, and a sense of pride. The journey has been a "Long and Winding Road," as The Beatles described. I will always have a special place in my heart for this school and newspaper. The people in the class have made it even more special and close to my heart. The memories we made are unmatchable! I am so glad that everyone accepted me, and Mr. Cantrell decided to deal with me for a couple of years. My only regret is that I did not join the class earlier.
I wanted to end my time on the Digest side by side with my fellow peers, but I guess I have to settle with some virtual love. Here are a few words about each member of the staff:
Sarah Katheron, I see great things in your future! Keep being who you are and do not lose your great determination and focus. I know you will keep everyone in line.
Jack, I love how willing you are to do anything and to help anyone. Thanks for helping me so much with podcasts and never complaining about my ignorance.
Ashley, you are so sweet and determined. I am glad you joined the team this year! I hope the rest of us did not annoy you too much this year.
Karleigh, I absolutely love how confident you are of yourself; it is so admirable. I am going to miss your energy, jokes, and amazing leadership skills.
Bailey, you are truly one of a kind. I have enjoyed becoming closer to you this year tremendously. I will miss you so much, little girl. I am sorry for calling you Betsy this year. Despite my constant teasing, I know you will do great things, and I hope you thrive as a marine biologist in your future.
Blake, you are a dummy, but you are my dummy. I will miss you a lot Block, but I am glad I got to know you. I know we are constantly annoying each other, but I will miss those times. Good luck next year with the Digest. You are fit for the job as Editor-in-chief. I believe in you!
DayOnna, you are an all-star! You constantly raise the bar, queen. Your drive to be the best version of yourself has consistently inspired me. Thank you for being our fearless Editor-in-Chief and dealing with all our shenanigans. You are a great leader, so do not let anyone tell you otherwise.
Cassandra, you mean so much to me. Not only are you a great friend, but you are a great person. It is hard to put your determination and love for life into words. You are going to go out into the world and conquer it! Thank you for being the best Copy Editor out there.
Morgan, I love how unique you are. You made a great addition to the team this year. I cannot wait to see what you will accomplish in your life.
Danae, oh gosh, where do I begin? You are stunning, like all the time. I am so grateful for our strong connection. I am also so glad you joined the "cult" this year, and we had more time together throughout senior year. I am excited to do life with you after high school and see your new array of artwork you will create.
Jaheim, we joined journalism the same year and continued to become closer during the times we shared in the class, and, boy, did we share some times. You mean so much to me! I will miss our walks around the school and adventures to the baseball field. I am glad we also shared such good times in theatre.
As for Mr. Cantrell, you inspire me to be the very best. I am thankful for your insights and great advice. I am glad you never gave up on me and continued to encourage me through the best and worst of times. I will miss seeing you in class everyday. No one could have done this without you. Thank you.
I also want to say a huge thank you to everyone in B-109. Everyone has made such a significant impact on my life. For those who have not graduated yet, know I will always think about you. I sincerely wish you guys the best. I know you can do it; do not give up. Soon you all will be waving goodbye to your high school years, like I am currently doing, so make the most of your time at Central.
My experience on the Central Digest was demanding, yet rewarding, and helped me flourish into the person I am today. I will never forget this road I have traveled on and all the stops I made along the way. Here is to the next "Long and Winding Road" I will travel along.