Onto My Next Story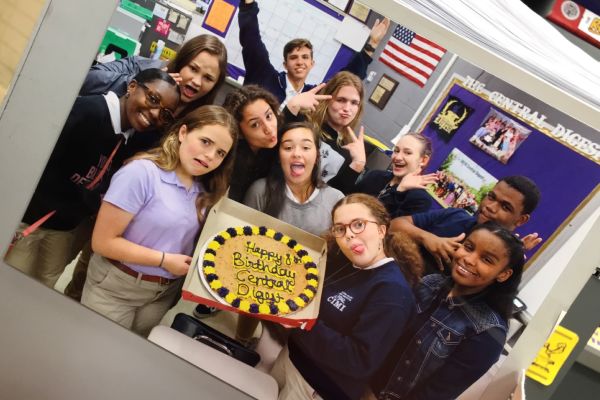 As part of the class of 2020, my precious time in high school was cut short; however, I believe I made the best out of those four years at Central. I participated in activities and clubs that allowed me to grow into a better, more outgoing person, one of them being the Central Digest. This class not only allowed me to build confidence, but also gave me incredible memories and even better friendships.
I turned in the application freshman year after DayOnna's convincing and was miraculously accepted. I had Mr. Cantrell for 9th grade English. "You're in honors," he would constantly tell us, so I did my best in his class. I'm assuming that work ethic helped me become a part of the best class at Central, either that or the staff reading my application saw many wonderful attributes.
The following year, as soon as I walked into the room, there was so much energy, and I can vaguely remember Jake Johns yelling. I immediately thought "what did I get myself into," but little did I know that B-109 would become my favorite room at Central High.
The staff was so welcoming, but I still felt intimidated. They knew what they were doing and here I was, clenching onto DayOnna for help in just about everything. I quickly managed to figure things out, and the next thing I knew, I was an associate editor the next year. Then, many stories later, I went on to become the copy editor. 
The work I did here is still some of my proudest accomplishments. I had never used a video camera before, let alone video editing, but I managed to create good videos. With the help of David and Patrick as video recorders and creative geniuses, I talked to students I had never talked to before. Every student and staff I interviewed was very friendly; they all happily contributed to my stories and videos, even when I asked if they were okay with being silly stringed on camera.

To past editors and staff, thank you for the immense support you all gave me; especially Preston and Matthew, who pushed me to do more. The friendship and memories that were created in that room made journalism my favorite part of the day, everyday. I can say the same for the current staff and then some.
Jackie and Ashley, although I barely heard a word from both of you, you were great assets to the Digest. You were both the calm in the storm that was journalism. Ashley, you were always so kind and generous; I admired your great work ethic. Jack, as much as you sat on the trash can, I am still surprised you never fell in, and even though your work was never on time, you admiringly put all of your effort into it.
Karlinda and SK, I know the Digest will be in good hands with you. The two of you have an amazing gift for organizing, technology, and work ethic. Sarah Katheron, continue to keep the Digest in order. You will be a great editor-in-chief one day, and I cannot wait to see how far you take the Digest. Karleigh, you finally managed to stay in the room for more than five minutes! Just enough time to allow me to see that you give your all in everything you do, whether it is a sport you play or a story you write. Keep it up because that will get you anywhere.
Betsy and Block, I loved watching you all grow from little grapes with bangs and long hair to such intelligent upperclassmen. You all have some big shoes to fill, but I know you will set the bar even higher. You two are complete opposites, but you will manage to do incredible things for the Digest. Blake, stay sassy and political. Even if Bernie does not win, the world needs more informed people like you. Bailey, you will get to decide who gets stories now, so you can write about your many boyfriends. Never let go of your love for Harry Styles and your wonderful energy that lights up any room, it is unmatched.
Seniors, thank you for the best memories, not only in the Central Digest, but throughout our four years at Central High. I have no words to describe you all other than incredible. You all have achieved so much and will continue to do so. I was lucky enough to have such amazing, supportive friends, and I cannot wait to see what future each of you pursues. DayOnna, I owe you everything; thanks for introducing me to much an amazing class, Miss Editor-In-Chief. Abby and Jaheim your endless laughs will always have me remembering this class as the most joyful, you all have the ability to keep anyone in a good mood, even in crazy circumstances. Danae and Morgan your drive to try new things is inspiring. It can be anything artistic, from excelling in a new language to perfectly illustrating Mike Pence on a Chromebook. 
Mr. Cantrell, every time I hear "Sandy," I will think of you and your sad trombones. I was lucky enough to have you all four years. You are one of the best and most fun teachers at this school, despite your love for Ice JJ Fish's song. You are the reason I got into videos and writing, which I hope to pursue in the near future, so thank you. 
I will remember Central as a place of growth and friendship. The many memories I had in that building will forever be remembered by my few videos and many stories.