Central High Takes a Look into Dr. Martin Luther King's Dream Today
Central High School is known for its very diverse student body. If it weren't for the sacrifices American heroes made during the Civil Rights Movement, this would not be possible. One of the most recognizable people during this time was Dr. Martin Luther King, who had a dream to change society's views on African American people. The question still remains, is King's dream still alive today?
Central High's African American history teacher Joseph Parrott expressed, "I do believe Dr. King's dream is still alive today due to the fact that African Americans have exponentially more opportunities now than in previous decades. We continue to see our country taking steps toward acknowledging the past and making strides toward a brighter future for people of color. I think a really good example of this is the fact that we are seeing African American history courses being taught in more and more high schools around our country such as Central High School. "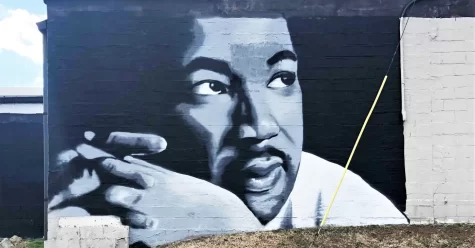 King's work during the Civil Rights Movement is seen and appreciated by the staff and students of Central High School. King's dream still lives on today, and his hard work doesn't go unseen by the students of Central High School, and, by people around the world.
"I believe King's dream is still alive, due to African Americans standing up for themselves today. Heroes such as King, and many others, African Americans have many opportunities today. Although we still have differences today, we continue to fight for our equal treatment just like King did," exclaimed senior Micah Bingham.
Thanks to advocates like King, African Americans can confidently lift their heads high and pave the way for our future. Continuing to stand together and fight for one another can help make the future even brighter for later generations. King's dream will always shine bright in America, and at Central High School.
"What's even more reassuring of this is the fact that students and teachers (white & black) are advocating so strongly for African American history in their schools. I think this shows a change in attitude in acknowledging past experiences of African Americans, so we can collectively work together to ensure that history doesn't repeat itself and so Dr. King's dream continues to live on," Parrot said