Eric Dill, Class of '99, Still Has an Impact on the Harrison-Ooltewah Area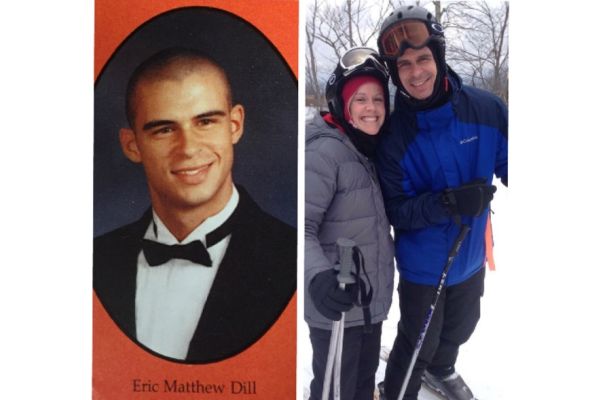 Central High School impacts its students in ways few other high schools do. Alumni are proud to be a part of the history and tradition of such a great school, and many of them continue to serve Central years after they have graduated. One of these alums is Eric Dill, who graduated from Central in 1999. His story with Central began before he was even born.
"My dad graduated from Central in 1973, and he would take me to football and basketball games 'on the hill' when I was growing up," Eric recalled.
This led to Dill eventually becoming the starting quarterback as a sophomore. That season, Central won against Brainerd High School for the first time since the 1960s and defeated The Baylor School to secure a spot in the playoffs. In fact, Central went to the playoffs in two of the three seasons that Eric led the team.
"My favorite memory was the first touchdown pass I threw to my cousin, Mark Dill, in the first round playoff game of my junior year. I can't remember how long the pass was, but we connected on a deep post route in the first quarter that gave us the lead in that game," shared Eric.
As important as football was to Eric, he loved the people in his school most of all.
"The best thing about CHS was the people! The friendships forged through persevering through a tough class or a difficult football or baseball practice was something really special," stated Dill.
Eric Dill's pride in his peers was very apparent to one of Eric's favorite teachers, Sr. José Sánchez.
"As a student, I always remember him smiling. He was well-mannered and respectful, and he had a certain charisma to him – everyone liked him. I was very happy he was selected as Mr. Central," said Sr. Sánchez.
Eric was honored to be named Mr. Central, but an even more monumental moment came earlier that year.
"While a senior at Central, I made the biggest decision of my life, which was to place my faith in Jesus. This led to my future calling and vocation as a youth pastor at Bayside Baptist Church," shared Eric.
As a youth pastor, Eric gets to encourage older students to strengthen their beliefs. He teaches high school and college students on Sunday mornings and Wednesday nights. After 14 years of serving at Bayside, Eric has had many opportunities to bring his church and alma mater together. He comes to lunch several times a semester to visit Bayside students and has even served as the chaplain for the football team.
"Romans 8:28 says, 'And we know that God causes everything to work together for the good of those who love Him and are called according to His purpose,"' he added.
Bayside member and Central student Haylee Smith has been learning from Eric since her sixth grade year.
"He is such a wonderful man to look up to. He always has great advice, he is an amazing spiritual leader, and his encouragement means so much to me," she commented.
Now a husband and father to four beautiful children, Eric shares his love for Central by bringing them to "as many sporting events as possible."
"Also, I enjoy attending Senior Day every year to see who the school deems Mr. and Ms. Central. It's kind of fun to see the font size spelling of my name from 1999 getting smaller and smaller," joked Eric.
"There were really so many things about Central that I liked and enjoyed! Obviously, it was school, so there was that.. but I genuinely enjoyed getting up every day knowing I was a Purple Pounder," noted Eric.
Remembering back on his days at Central is always gratifying to Eric, but he also looks forward to what the future holds.
"I was recently encouraged with the quote, 'If it's not good yet, God's not done,'" concluded Eric.
About the Contributor
Jadyn Snakenberg, Copy Editor
Hi friend! My name is Jadyn Snakenberg. I am a senior and the Copy Editor of the Central Digest. This is my fourth year at Central and my third year on...