Central Pounders Fishing Team Reels In Lots of Success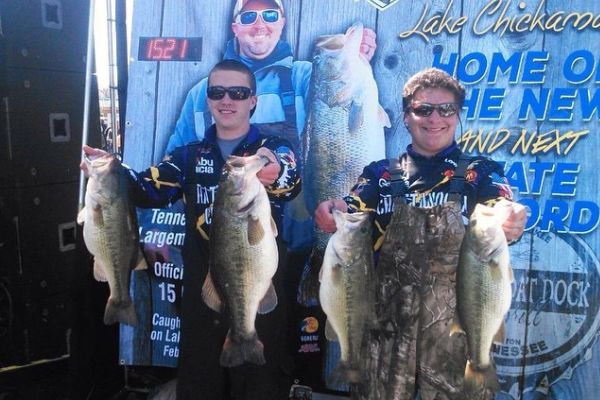 When it comes to Central athletics, most of the spotlight is usually cast on sports such as basketball, football, softball, volleyball, soccer, and more. Little does everyone know, we also have a successful fishing team! Three years ago, Central formed a team of fisherman to compete in tournaments with other schools in the area. There are six competitors on Central's team who fish in a tournament once a month.
There are three boats that are used, one of them owned by the coach, Brian Ainslie. Not only is he the coach, he is also the father of Gavin Ainslie, one of the most experienced fishermen on the team.
"It's a lot of fun to go out there and fish with the boys. Gavin and I have always loved the sport. We're out on the lake rain, snow, or shine," shared Coach Ainslie.
The tournaments the team fish in welcome fisherman from all kinds of different schools and areas. They usually begin fishing as soon as there is enough light outside to ride safely, and end around 2 or 3 p.m. depending on the tournament regulations. Though they have not had any major victories yet, junior Gavin Ainslie and former senior AJ Barnes have both placed 2nd in The Battle Of the Chick tournament where they won money for the largest fish.
"I felt like we made a good impression in The Battle Of the Chick tournament. Just me and my buddy out there doing what we love; that's probably the best competition these past 3 years," Gavin noted.
The Pounder fishing team has already had much success within the past few years. AJ Barnes, class of 2015, received a full-ride scholarship to Tennessee Wesleyan College after being noticed for his impressive fishing abilities. Central looks forward to more success being cast out from the upcoming fishermen and the Digest wishes them luck at any upcoming tournaments!
About the Contributors
Samantha Scott, Staff Writer
Hey there! My name is Samantha Scott. I am a senior this year, and I enjoy playing sports and writing! I have been the varsity liberro, or defensive specialist,...