After Finishing Degrees in Both Psychology and Counseling, Sokari Atkins Now Working for ESPN as Cheerleading Judge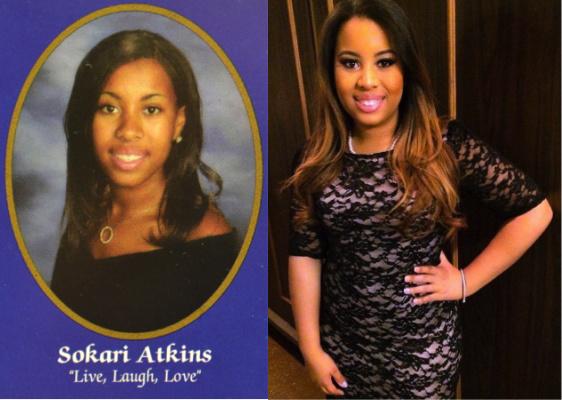 Having graduated from Central High School in 2008, Sokari Atkins finally finished her education last year when she graduated from Lee University with a bachelor's degree in psychology, a master's in counseling psychology, a post-master's in school counseling, and certificates in judging cheerleading and make-up artistry.
After leaving high school, Atkins noticed many delineate contrasts between high school and college life.
"Although high school helped me pick up different study skills and writing skills that were applicable to college, there are definitely many major differences between college and high school,"  shared Atkins. "In college there is the issue of actually applying and getting accepted into a school, whereas in high school, you just attend the school that you are zoned for. The culture changes immensely, and you really need to learn how to manage your time well."
Despite the difficulty of not only the education level but also adjusting to the new life style, Sokari Atkins surmounted the disincentives in seven years.
"Double majoring was not too bad; I did not have too much issues with reaching all of the requirements for graduating in my major," elucidated Sokari Atkins. "I finished high school in three years, I finished my undergraduate degree in three years, my first master's in two years, and my second one in two years as well. I graduated on time, if not, early."
Atkins has finished her education and is now working at Sephora as a make-up artist as well as a judge for varsity cheer-leading for ESPN.
"As a varsity cheer-leading judge, I am always traveling around the country; it is a 24 hour job," explains Atkins. "ESPN provides the traveling expenses and necessities, such as a phone battery and things of the like. I will work for two days and if I want to explore the area, I can request to stay and the expenses are still covered for me. If I want to go to Disneyland, then they will make sure that I get to go to Disneyland. In exchange, I judge the big cheering squads' performances and tell them what they need to work on and how they should go about doing it."
Although her choice to double major in counseling was mostly influenced by her mother, Karen Atkins, who is the freshmen guidance counselor for Central High School, Sokari has said that her favorite occupation would still be a varsity cheer-leading judge.
"Watching my Mom reach out and help students was inspirational for me. I want to do the same as well, except instead of being a high school counselor, I would rather be either an elementary school guidance counselor or a middle school counselor. I would also definitely want to to coach the dance or cheer-leading team," reminisced Atkins. "In all honestly, as much as I love being a make-up artist and counseling, I still enjoy cheer-leading the most."
Sokari Atkins' accomplishments have not only made her mother proud, but has also made Central proud; her dedication and perseverance throughout her education shows her abilities to overcome difficult challenges and deal with life.