But Seriously: Senior Night Memorable for Many Reasons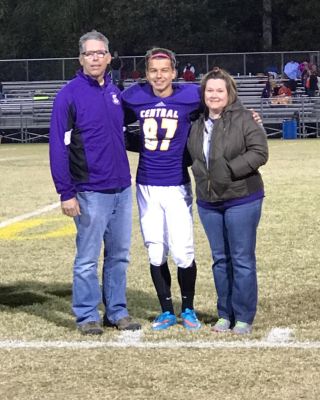 Last Friday was Central's Senior Night, where the school honors the students that are in the 12th grade who participate in either football, cheerleading, or band. This is the last home game for the seniors and it was great game. The Pounders won 37-0 against Sequoyah High School and clinched a berth in the playoffs.
"It was very memorable. It actually made me pretty sad afterwards, knowing that it was my last time performing with such great people who I call my family," said Miranda Spainhower, a senior in the band. "I wish I had another year with everyone."
As a senior myself, it was a great night. Not only because of the game, but because of the community and the fans who crowded the stands. The student section cheered louder than I have ever heard in my four years at this school and the crowd was significantly larger than usual. The game was dedicated to Tom Cole, an alumnus who is battling pancreatic cancer. He received donations from supporters, a gift from the school, and the crowd cheered him on as he walked off the field.
"It was a weird feeling knowing that this was my last time putting on the purple jersey, stepping foot on that field, and playing in that stadium," admitted senior Alex Padavana, a proud football player, who has played on the team since his freshmen year.
But seriously, senior year is flying by. Christmas is just around the corner and before we know it, graduation, May 20th. So seniors, if you are reading this, hear me out. Enjoy these last few months of high school, because you're only a senior in high school once, make it count and make it amazing.