Alumni Spotlight: Nikolay Timoshchuk Still Excelling in Football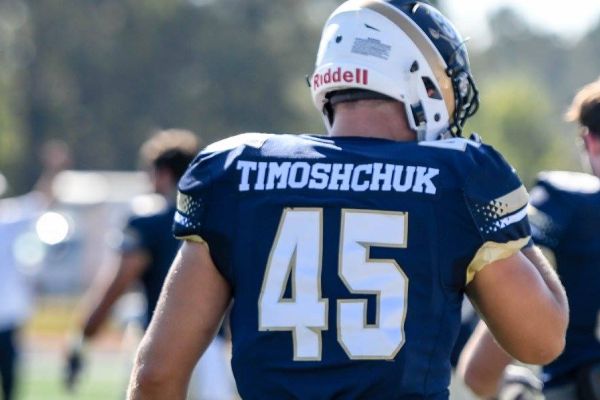 Nikolay Timoshchuk, a 2012 Central graduate and a previous player for the Tennessee Volunteers, the Chattanooga Mocs, and the Charleston Southern Buccaneers, is reliving his legacy at Central High School.
"Over my football career I have been able to accumulate three rings for being part of three conference championship teams, two being with the Mocs, winning the SoCon and one with the Bucs, winnings the Big South most recently," explained Timoshchuk.
Timoshchuk planned on being finished with school after graduating from the University of Tennessee at Chattanooga with his Bachelor's degree in Sports and Leisure Administration, with a minor in Business, until a different opportunity arose,. It was brought to his attention that he could use his last year of football eligibility at Charleston Southern. He will graduate from Charleston Southern with a master's degree this May.
"I want to go into working with the school system, whether that's administration, teaching, or coaching. I would like to have the opportunity to help mold the minds of young people." divulged Timoshchuk
Before graduating from Central in 2012, Timoshchuk was on the football and boys' soccer team and achieved honor in National Beta Club and National Honors Society. In addition, he was class president his junior year and won homecoming king his senior year.
Although all these things are impressive, the most important thing at Central to Timoshchuk was being a part of the Fellowship of Christian Athletes.
"I owe all my success to my faith and the people that I had behind me along the way. God blessed me abundantly and provided people in my life that kept pushing me when times got tough," admitted Timoshchuk.
He has no problem showing his faith and belief in God through all things, from football, school, and family, to things as minute as social media posts.
Timoshchuk's success has been a testament to current Central football players that tend to lose faith when things go wrong during the season.
"Even though my season ended early because of a severe injury to my right knee during a game versus Liberty University… the 2016 year was filled with many exciting and memorable moments," shared Timoshchuk.
Although this injury has impacted the his present career, the Central Digest can only encourage Timoshchuk as he continues to excel in the future, through either football or his career.