Alumni Spotlight: Julie Holder's Photography Career Has Led Her to Work With NBC, Rolling Stone, and Nate Berkus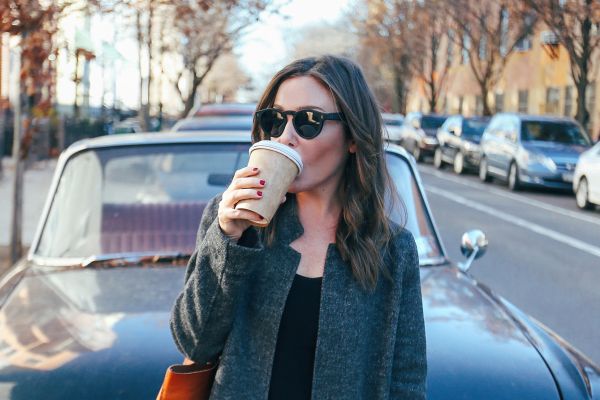 Hang on for a minute...we're trying to find some more stories you might like.
As senior class president for the class of 1999, Julie Holder probably would not have believed you if you told her she would one day photograph Ronnie Wood, one of the Rolling Stones, for Rolling Stone magazine. However, she did know her love and strong desire to live in New York City.
"We took a trip to New York City my junior year with our American Studies class, and I loved it.  I always wanted to live in New York, and that trip solidified it for me.  We saw Ragtime on Broadway and had dinner at Sardi's, and I thought it was the most fantastic thing I had ever done.  It was really cool to experience the city I wanted to travel to most with all my friends at such an impressionable age," recalled Holder.
During her time at Central, Julie Holder was not only the senior class president and class poet, but she also was an active member in the Art Club and American Studies class. After high school, Holder went to Savannah College of Art and Design (SCAD) and majored in Photography.
"I absolutely loved it there, and Savannah is a magical city," stated Holder. "I originally went to be a Fashion major but discovered how much I loved photography once I started taking those classes.  I spent more time in the darkroom than anywhere else, so I switched."
While time in college is always limited, Holder believes the lasting friendships made during the time will make all the difference.
"It's cool when you find your major because you meet so many people who are into the same things, and you instantly form lasting bonds.  We are in our mid-30's now, and my group of friends from SCAD is still some of my closest friends.  Five of us have a group text chain where we talk to each other every day even though we are scattered all over the country now," said Holder.
Starting out in a new career is always tough, no matter the subject. Today, Julie Holder is an accomplished and successful independent photographer who has worked with countless amazing individuals. However, Holder first had to build a positive reputation in the industry.
"My first real full-time job was a studio manager for a National Geographic photographer. After that, I went to Tennis Magazine as an assistant photo editor.  After that ABC, then the Nate Berkus Show, then Rolling Stone, and then I finally felt like I had enough experience, know-how and clients in the photo industry to go freelance," explained Holder.
During the same time Holder was growing her business, she was also growing a family.
"I've had my own business for about five years now, and I'm very proud of the work it took to get there.  Also, as cliché as it may sound, I became a mom six months ago, and wow, that's pretty unbeatable.  She's the most amazing little person and watching her grow and discover the world around her every day is my biggest pride and joy," commented Holder.
"
The day before my last day there, I shot Ronnie Wood, one of the Rolling Stones, and I almost passed out."
— Julie Holder
Besides the birth of her own daughter, one of the most memorable moments of her entire career is working with one of the band members of the Rolling Stones.
"I got to work with a lot of bands when I was at Rolling Stone, and that was really hard work but fun too because I love music.  The day before my last day there I shot Ronnie Wood, one of the Rolling Stones, and I almost passed out," exclaimed Holder. "I've also really loved working with NBC and the talent for their shows.  My favorite thing to shoot is interiors and design stories, and I have had the pleasure of working with Nate Berkus for a while now, and I adore him.  He's been a wonderful client to have."
Despite her love of living in New York City for 11 years, Holder, her husband, and their six-months daughter recently relocated to Austin, Texas.
"[Our family] loved every second of New York City, but we wanted to slow the pace down and live in a more manageable city once the babe came along.  I think we're going to love it here.  I do miss TN sometimes, and I love visiting.  It took me a while to miss it, honestly.  I love traveling and I loved living in Savannah and New York so much, I didn't mind being away, but now I appreciate it so much more. I grew up in Harrison out by the lake, and it's just beautiful out there.  I am blessed with such wonderful family, so I really do treasure the time I get to spend with them in Chattanooga, especially with our new baby," reminisced Holder.
With the busy city life somewhat slowing down, Julie Holder encourages all students to pursue what they really love in life.
"Find what you love, work hard and be honest and kind.  Seriously, from my experience, that really is the best you can do with things.  Just work hard and be honest.  I believe that you can make things happen for yourself if you try, but you can't be lazy and you can't expect it to happen overnight.  I would also advise that you say yes to things.  You should save a little to travel at least once and hang out with people who aren't like you and who didn't grow up where you did," concluded Holder. "Over the next few years I would advise you to work hard on your passions, honor the time you have as a young person with your whole life ahead of you, and take the opportunity to make a career out of doing what you love."

About the Contributors
Preston Fore, Editor-in-Chief
Hi! My name is Preston Fore. I am currently a senior at Central, and this year will be my fourth and final year on the Digest; I am very grateful to serve...