Alumni Spotlight: Ryan Martin, An Undefeated Professional Boxer, Reminisces On Past Central Experiences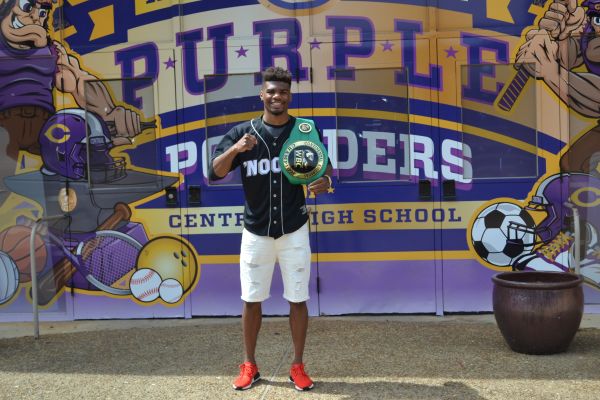 Hang on for a minute...we're trying to find some more stories you might like.
Ryan Martin, an undefeated professional boxer, was born and raised in Chattanooga. He became interested in boxing when he was seven years old and trained at West Side Boxing Gym. He attended Brown Middle School and Central High School during his academic career. Now as a 24 year old, he recently won a match at Madison Square Garden against Brian Cruise.
"My experience as ninth grader here at Central was the typical high school experience. I got into trouble and kicked out of class sometimes. But the principal, Mr. Lewis, really helped me out. He showed me how to be a better student," Martin recalled.
Martin recalled on his favorite teacher while he attended Central, and how she helped him.
"One of my favorite teachers had to be Ms. Stevens. She taught Algebra II. She really helped me out. She wasn't just a teacher who put work in front of you. She really helped me pass the class. She's even a good friend of mine now," Martin stated.
"As I got older, I took my grades more seriously. I didn't take my grades one hundred percent seriously, and I wish I would have," Martin stated regretfully.
Martin also noticed many changes have been implemented at Central High since he had attended.
"Central has changed since I went here. They don't let students outside anymore. There is a lot more security. The doors are locked more often. I do like the change, it's good."
Ryan Martin explained what his career has been like as a young entrepreneur.
"As a fighter, I'm hit with hard choices every day. It's apart of business: making good decisions and having determination. I turned pro after high school. Now, I'm the current champion in my weight class. I love to come back to my school and support the students here and give back." Martin elucidated, "I have challenges every day – training, making decisions for my team, being a boss. When you run your own company, you can't base your decisions off feelings, you base it off what's right."
Ryan Martin's company, the Blue Chip, is a term referring to high school athletes being scouted or drafted into franchises or college level teams.
"I am an entrepreneur. I have people who work for me: assistants, trainers, managersAlum, and they all listen to me and  I forget that sometimes. I'm a young kid, so it's hard."
Martin shared advice that he thought every student should hear.
"I want students to take advantage of the free education, and the teachers who are here to help them. Don't let anyone tell you that you can't do something, and if you have goals that your friends can't see, go after them. No matter what obstacle is in front of you, you can overcome it and succeed. And use your resources – your teachers and guidance counselor. They're not here to make you fail; they want to see you go places."