But Seriously: Thank You, Central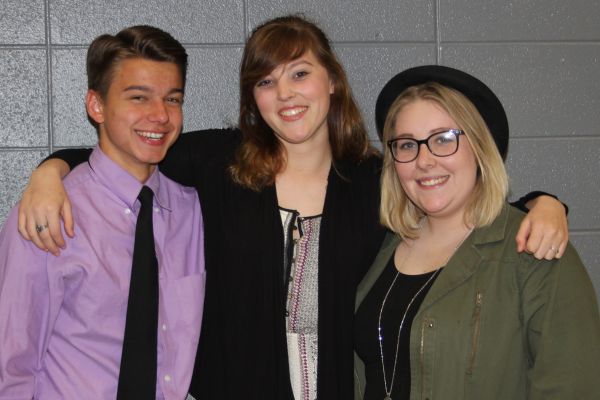 Over the past four years at Central High School I have met some wonderful individuals and enjoyed the ups and downs here at my home. Becoming a Pounder at first was very hard for me, moving to a school and town where I did not know anyone or even know the area well. The community here at Central was phenomenal. From the alumni, the faculty, and especially the student body, everyone was so accepting to new ideas and new people.  I did not feel like a stranger very long and still hang out with the friends I met freshman year. There has never been a place in my life where instantly I became part of a family that was so caring.
This journey has not been easy and I did not complete it without the help from some amazing people. These teachers, students, and amazing leaders taught me many valuable lessons that I will never forget.
Mr. King, you are the best example of a principal. There is no comparison.  Many principals lack personal connection and other great qualities that naturally flow from you. It is because of you that I am where I am today and for that I am forever thankful.
To Col. Brooks, SGM Lewis, MSG Dupree, and MSG Woodham, the leadership skills you taught me through JROTC are valued by me so much. You all guided me as I tried to become a great leader as yourselves. The first for Freedom Battalion became a home for me and eventually gave me my purpose in life, which is to become an officer in the Army. Without JROTC, I would never know how to reach and discover full potential within me and in others.
To Ms. White, Mr. Cantrell, and Mrs. Fannon, English was never my favorite subject but each of you taught me a different love for it. There are too many great memories and lessons to recall. English became one of my highest grades because of the great style of teaching and passion for the subject you all have. I hope I see you all soon when school starts back.
To Mrs. Ruggles and Mrs. Dyer, the dynamic duo. The reason the Class of 2017 had 100% of students apply for college and 95% of them attending college is because of you two. A unit is only as strong as their leader, and you both exemplify just that. Not many people know all the work you do behind the scenes, and you are not thanked enough for all the above and beyond work you do as well; thank you. Thank you for being two of the hardest working people at this school.
To Coach Joyner, Coach Robinson, Coach Munson, and Officer Dotson, my running crew. Cross country and track have been fun and I will sincerely miss it. I will always be cheering the team on either from college or on the sidelines. You all taught me the importance of discipline and never giving up. Running is not always fun and neither is life, but it is the finish line that keeps us going.
To Ms. Johnson, at first, I did not know what to expect from forensic science. The class was small and filled with students I did not know too well. This past year was so much fun and your class was definitely a highlight. Your projects in that class were so fun and made students think outside the box. You are a great teacher and should never leave Central.
To Mr. Seals, you are the Dedicatory for the Class of 2017. I am so happy for you and was so inspired by your great speech at Senior Day. There is never a moment in class wasted with you. You make the most of 50 minutes in class that by the end of class I am amazed at what you are able to do. Keep making history Mr. Seals, but keep teaching it, because you are one of the best teachers ever in the history of history teachers.
And last but not least, to the staff of the Central Digest. It has been an honor working with you all and I cannot believe our time has come to end. I am sad, and definitely not ready to leave you all, but I have no doubt that you will achieve even greater accomplishments than we did this year. You are all gifted, hilarious, charming, and wonderful people. Good luck to you all and have a great summer!