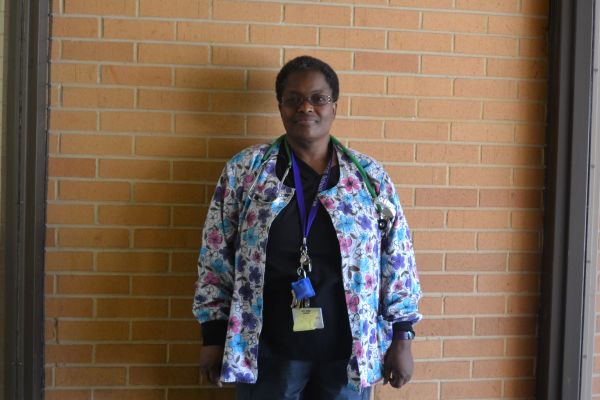 Teacher Spotlight: Central High School Welcomes New Nurse Kim Lykes
This year, Central High School welcomes a new school nurse, Kim Lykes. Lykes is happy to be working with fresh faces this year and is looking forward to many great years here at Central.
Nurse Lykes went to Helix High School in La Mesa, California. She later attended San Diego City College in California, where she earned her associate's degree in nursing.
Lykes has been a nurse for 27 years and has been at numerous schools. Her first year of school nursing was at Dalewood Middle School. From there, she moved to Ooltewah Middle School for 5 years, then Brown Middle School for a few years after that.  This year will be her first at Central.
In her spare time, Lykes enjoys crocheting and riding her bike. She recently dropped her daughter off at UTK so she now has an empty nest, but she uses these hobbies and her new job to stay busy and work through any loneliness. However, she enjoys time off of work so she can have take time to relax.
" The best part of being a school nurse is that I get to work with kids," said Lykes.
Nurse Lykes goal is to not only help students with physical problems, but she also loves to help students with any emotional struggles. She likes to give advice and support to students, whether it be medical or personal struggles.
Central student Elizabeth Iriving stated,"[Nurse Lykes] is really nice and cares for each student. She makes sure they are healthy and feel good."
Lykes agrees that while being a school nurse is enjoyable, it can sometimes be frustrating. It is harder for her to work at a high school with older kids, because they have more freedom. She says it is difficult to navigate the school because it is very crowded and clumped together. Also, her key card often does not work, making it tough to get into the main building quickly, especially if there is an emergency.
Nurse Lykes is willing to take the good with the bad and plans  to stay at Central for as long as possible. She is here to help anyone and be a part of the team. As she tells all of her students, "Remember to wash your hands and drink your fluids!"