Looking Back: Volume 1 of the Central Digest Launches 107 Years Ago
September 21, 2017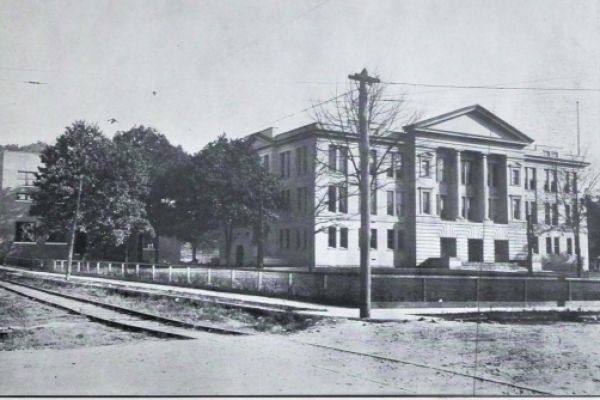 Preservation of Chattanooga Central History
EDITOR'S NOTE: The following article contains summaries of articles from past issues of The Central Digest. Once per month, the Digest will look back into our archives to see what was happening around Central High in the past. 
THE CENTRAL DIGEST LAUNCHES
October 1910
The Central Digest, full of courage and enthusiasm, makes its bow to the public, in general, and to the prep-school world of Tennessee. Its mission is to set forth, not alone the scenic grandeur of beautiful and picturesque Chattanooga but also her strategic position which destines her to become still more a leading manufacturing and wealth-producing city of the South, and to foster the hearts of all young people into whose hands The Central Digest may fall a desire for culture and refinement, a love for school-life and home-life which, as the years of youth glide into manhood's estate, will permeate with its warmth and spirit the larger life of the Republic.
WOMEN'S SUFFRAGE DEBATE LOST TO MCCALLIE 
October 1910
Dr. Forest Spencer and Paul Elmore of Central debated against Carol Patterson and Earlow Kerr of McCallie about the question, "Resolved, That suffrage should be extended to women in Tennessee." McCallie championed the negative and were named victorious from a two to one verdict, with Drs. Bierly, Lee and Gorrell of the University in favor. Central was well-represented in the affirmative side of the question.
EXTRACTS FROM THE CENTRAL DICTIONARY
October 1910
Pony — A  beast of burden used by students when traveling in unexplored lands.
Flunk — The process of changing from a four years' course to a five years' course.
Junior — One who knows it all and wishes to teaches the faculty.
Quiz — A means of torture employed by Mr. Anderson.
Sophomore — A wise old owl.
Senior — One who has ridden safely through in the race for a sheepskin.
Faculty — Angels (in disguise).
Freshman — One who knows not, and knows not that he knows not.
CENTRAL DOWNED BY MOONEY
November 1910
Central played its first home football game of the season against the Mooney School team of Harriman, Tennessee. With a final score of 23-0, each team missed easy plays. It was noted, however, that the individuality of the Central boys were not able to be sufficiently judged by the spectators.
JUNIOR CIVIC LEAGUE ESTABLISHED
November 1910
The Caroline E. Richmond Junior Civic League, with a membership of 198, was organized at Central High School May 16, 1910. Its object, as set forth by the constitution is, "to promote cleanliness, beauty, law, and order everywhere."
For those interested, the archived Central Digest publications can be found on the Preservation of Chattanooga Central History website: https://chattanoogacentralhistory.com/digest/