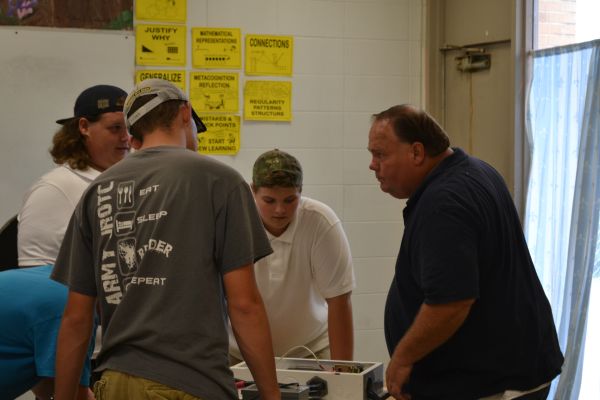 Teacher Spotlight: Central High Welcomes New Mechanics and Construction Teacher Mr. Webb
This year at Central, we have many new teachers and subjects, including Mechanics and Construction taught by Jerry Webb. This class is not just about learning a few skills, but it can also help students who do not plan on going to college get certified to be mechanics and construction workers.
"It's a combination of multiple subjects; Mechanics and Construction. It's just something I enjoy doing, and that's why I decided to teach it. It is a hard subject to teach, especially when it comes to getting my students certified," explained Webb.
Getting students certified means that he has to teach his students the trade of Mechanics and Construction. Students are then tested on the knowledge they have gained. If they pass, they become certified. If not, then they try again.
Webb has been teaching for 20 years. He previously taught at Tyner High School before moving to Central this school year. One of the difficulties that Webb has is holding back and being careful what he says to his students and the staff. According to Webb, Tyner is a difficult school to teach at when compared to Central. Mr. Webb had to be harder on his students at Tyner, but here he doesn't have to be.
"Because I taught at Tyner, I have to be careful at what I say to my students and what I say to the teachers," voiced Webb. "The staff is friendly and welcoming and the students work really hard.
He really likes to make sure that all of his students are working on something, whether they're working on a given project or helping him sort his tools and put them in the proper place. His students believe that he's really good at teaching, especially with hands on activities.
"He is really good at hands on teaching and making sure we are all understanding what he has to teach. He makes sure that we are all included and working the projects he has given us," vocalized Maison Lyle, a junior here at Central.
The students in his class are looking forward to learn all about these subjects, and Mr. Webb is looking forward to helping his hardworking students master this trade throughout year.