Hey, Hay Hay!: "Too Much Light" Revives Central's Drama Club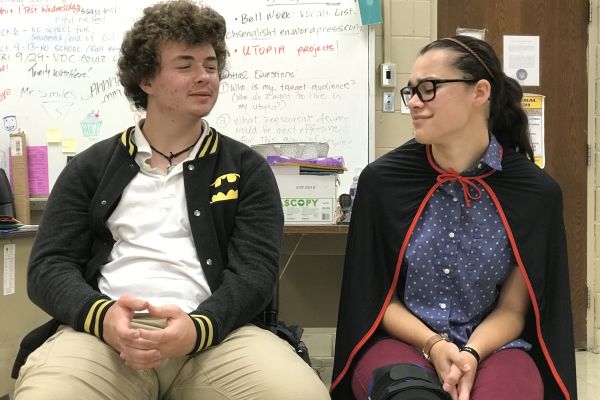 Most people associate art with a painting or drawing, or sometimes music. However, no one ever considers theater to be in that mix.
"Theatre is truth, played out before us in a way that ignites our imagination, reframes our perspective, and reminds us what it is to be human," Ms. Sally White declared.
This year Central has decided to dust off the drama club and put it back into commission. Thanks to English 10 teacher and now Theater Arts II teacher, Ms. White, the club is up and running. One might immediately think of some cheesy High School Musical type class when they think of high-school theater arts, but I can assure you, it takes a lot to be a part of this group.
"This class came in knowing they were going to perform," Ms. White shared. Also, most the class was personally selected to be in it by Ms. White herself, so goofing off is not allowed.
As a part of the new theater class, I can tell you that it requires a lot of dedication to memorize your lines and stay on top of things. Sometimes that can be a hard task to complete; however, this class is sticking together and helping each other out no matter what. Because we treat each other like we are a part of one big family, it feels like a second home.
"They're diverse but they get along and work together and leave out the drama. It's somewhat cohesive even though they weren't best friends coming in," Ms. White commented.
Moving forward, we have a lot to be excited about. One thing in specific is our upcoming play that is based on, "Too Much Light Makes the Baby Go Blind,"  by The Neo-Futurists. The play is a beat the clock type of performance, trying to fit 30 plays in 60 minutes. The audience will receive a menu, and they will be able to call out the number of any original play they want to hear from plays 1-30.
The performance is Saturday, October 21 at Harrison Elementary School at 7:00 pm, and admission is only four dollars. We are working tirelessly to make this play great, so do not miss out!
Many thanks goes to Central High School Alumni and the school librarian, Ms. Martin, for the generous donations they have provided. With the funding we are able to put on future plays, and get props and sets for bigger productions.
Theater Arts means a lot to Ms. White, and she is inspiring many students, myself included, to appreciate the art of theater. I am also personally thankful to have such a motivating teacher to encourage me to be the best I can be.
I am very excited about what this class is going to do for the community, and I cannot wait until our first performance! In the words of Ms. White, "I love art that begets more art."