Hey, Hay Hay!: Be Thankful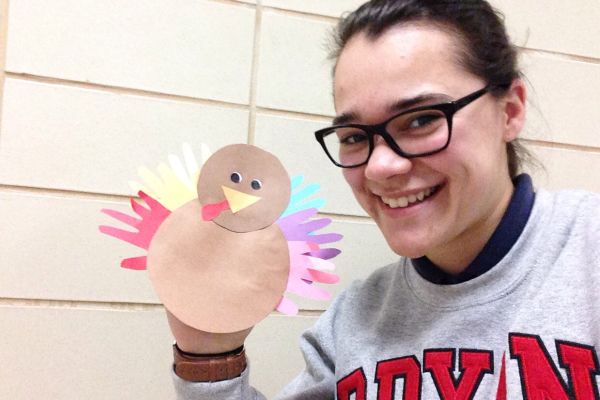 It is finally Thanksgiving time everyone! Otherwise known as the season of thankfulness and good food. All joking aside, Thanksgiving is a holiday where one should really appreciate who and what they have in their lives. Whether it is family, friends, or even just something you are happy to have: show your appreciation.
One of the greatest things I am thankful for is my relationship with Christ. God is the one and only thing that has truly helped me to prevail through the hard times. Even though I have faced bullying for what I believe in, it is all worth it because God is awesome!
Next to my relationship with God, I am very blessed and thankful to have such an awesome family. My parents were the ones who challenged me to do the best I can, and they have always encouraged me. My dad taught me to be strong through the hard times, and my mom taught me to always have a loving heart. Also, although she is younger, my little sister has taught me how to always smile through the tough days. Many thanks also goes out to the rest of my family for always encouraging me and always supporting me no matter what.
I am also extremely thankful for the motivation and happiness that I receive from my wonderful friends. If it were not for my awesome best friend I would not have made it this far in high school nor would I have had the courage to try my hardest to get into the college I wanted. I am thankful for my pal who has stuck with my since we were kindergartners, even though we have not always gotten along. A special thanks goes to the coolest guy I know, you know who you are, for always keeping smiling and helping me through the tough days. Because I could carry this list on and on, to all of my friends, you all also know who you are, thank you for putting up with me through all of these years.
A big thank you goes to Central for being the best high school in the world. Mr. King has been the greatest principal I have ever known, and he knows how to run the school. Thank you also to the faculty at Central for guiding me through my education even though I struggled sometimes. I could not imagine being in a better place as a senior, and I am thankful for the opportunity to get such a great education from such great people.
Last, I am very grateful for the Central Digest and the chance that I have gotten to be the columnist this year! I love all of the brilliant staff and our amazing leader, Mr. Cantrell: you guys rule!
Happy Thanksgiving!