Hey, Hay Hay!: A Week of 'Hearty' Announcements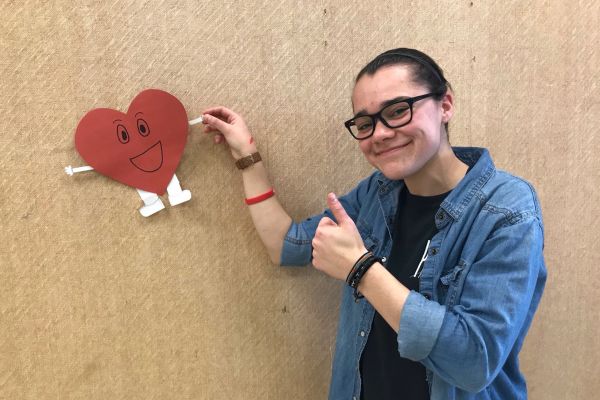 Last week, the Central Digest teamed up with the American Heart Association to bring awareness in regards to staying heart healthy. Each day, a member of the Digest spoke over the intercom during the morning announcements, sharing a 20 second segment on different ways to keep your heart going. Having a rather 'punny' personality, I was asked to write the segments that were spoken every morning.
In order to try to get the attention of the half-awake students in the school, I decided to 'pump' things up and add some 'hearty' puns to the facts I was given. Puns might drive people crazy, but overall, they never fail to get people listening to what you have to say.
Not only were the puns affecting the students, but they also allowed the teachers to enjoy a laugh.
"Of course I enjoyed the puns! My favorite part would probably have to have been the 'tobaccno' joke," commented Personal Finance teacher James Massengale.
'Tobaccno,' was a line used at the end of one speech I wrote encouraging students not to chew or smoke tobacco.
Even though puns seem to be an 'unhealthy' way to get across important information, some would disagree.
"I think it was effective because it allowed students to understand the seriousness of it all while being able to laugh about it," expressed Senior Kerri Sylvester.
I was worried about what a 'stretch' it would be to add a humorous aspect to the segments, but I was glad to hear that the humor 'worked out.'
"We are still talking about it [puns] so it was effective! It's like a hashtag, it summarizes your point; it sticks with you," exclaimed Massengale.
I guess you could say it was pretty 'nerve'-wracking to get up in front of the whole school and have people listen to your jokes, but it ended up actually being really 'pun.'
The main goal last week was primarily to encourage students to take care of their hearts, but it was a joy to add humor to everyone's day. I am sure that there were some people who had a problem with the puns and did not appreciate them. However, at the end of the day, there is no shame in my pun game.
Of course as a reminder, just as the Digest encouraged the students last week, it is very important that you keep staying healthy. Your heart needs a lot of care, so make sure to drink enough water and spend some time working out.
So, it is time to get those knees moving and those hearts racing;  just do not forget to have fun! Let us 'beat' unhealthy hearts by getting 'pumped' for exercise!