Teacher Spotlight: English Teacher Ryan Mallory Believes Teaching at Central Has Been 'Top-Notch'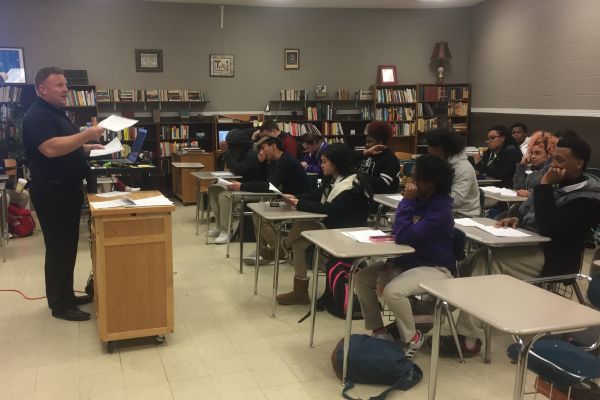 For ten years now, Mr. Ryan Mallory has been an educator. Mallory made the decision to be an educator in middle school, and the story of how he made this decision is unforgettable.
"I decided that I wanted to be a teacher in 7th grade. It was a gray, rainy Seattle morning, and I was sitting in my math class doing our bell-ringer activity. It was dark (we used an overhead projector) and everyone was quietly working, and I sat back in my desk, looked around, and thought, yeah, I could do this," recalled Mallory.
During his high school years, Mallory remembers his love for English. Unlike many high school students, he knew what he wanted as a career before he graduated high school.
"I liked reading and writing. I was good at it. I figured there were worse things I could get paid to do," stated Mallory.
Though he has been teaching for ten years, Mallory has not spent all ten years at Central. He has taught at four other schools: Fayette Academy in Somerville, TN, North Brunswick Township High School in North Brunswick, NJ, O'Dea High School in Seattle, WA, and Union City High School in Union City, TN. Though he has taught at many schools, Mallory believes Central is the best of them all.
"I do like teaching here at Central, Our administration is 'top-notch'. The teachers are very friendly and very supportive of one another. The student body is diverse and respectful. It's a good place to work," concluded Mallory.
When asked about his accomplishments, he did not boast about a long list of things he has succeeded since being here. He kept it short and to the point.
"Accomplishments? Honestly, I don't really measure my time here in accomplishments. Two years ago, my 9th grade EOC scores were ranked 5th in the county," replied Mallory. He also brought up his wrestling career, and how he has helped his team.
"The wrestling team finished 2nd in the dual region this year. Prior to this year, we placed in the top-10 in the state tournament 4 years in a row," stated Mallory.
Mr. Mallory has not been teaching 11th grade the whole time he has been here. This is the first year the has taught it, so he has had students that he taught as freshmen, which he thought could be an issue.
"At first I was leery of having so many students for a second time, but I've actually enjoyed teaching them again. I've had the chance to see them grow as people and students. Teaching juniors this year has given me some perspective on the freshmen," explained Mallory.
Between teaching English and coaching wrestling, Mallory also teaches Creative Writing. He did not choose to teach this course, however, he does enjoy teaching it. He sees it as an opportunity to get closer to his students.
"One thing I like about it is that I get to interact with students I wouldn't normally get a chance to know. Over the last two years, I've learned that some of my students are really talented writers. It's always fun as a teacher to be surprised by your students' abilities," noted Mallory
Whether he is in his classroom or in the wrestling room, you can bet that he will be inspiring someone to do the best that they can.
About the Contributor
Kaylee York, Staff Writer
Hi! My name is Kaylee, and I am a senior here at Central. My hobbies include reading and writing, and I am also a part of the Central Sound of Chattanooga's...