Alumni Spotlight: Sara Walker Continues to Display Success Following High School Graduation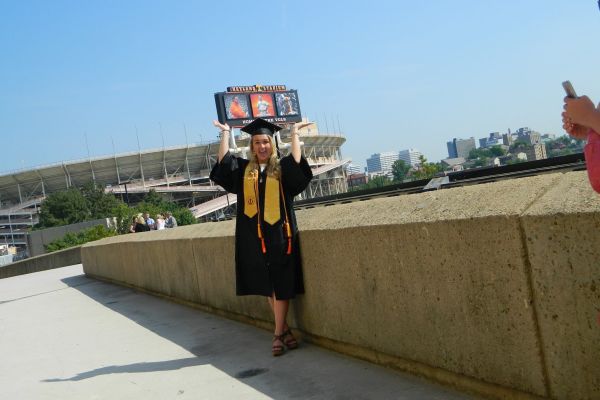 Hang on for a minute...we're trying to find some more stories you might like.
Many students are faced with the tough decision of choosing a career. This was no different for Central High School alumna, Sara Walker.
Sara Walker attended Central High School in 2007 and graduated with the class of 2011. While in high school, Sara was involved in many different extracurricular activities. She played softball throughout high school and was on the bowling team during her junior and senior years. She also was in the Beta Club, National Honors Society, FCA, and FCCLA.
During her time at Central, she felt like she was at home. She established many friendships with her classmates and teammates, as well as her educators. She had many favorite teachers at Central, but her favorite teacher was Mr. Seals, the AP U.S. history teacher. She enjoyed his class so much, she even considered becoming a history teacher herself.
When it was time to graduate from Central, Sara decided to attend the University of Tennessee at Knoxville. When it came down to choosing a major that would impact her entire future, she was torn. She enjoyed many things in college and was unsure of what she wanted to do. She decided to turn to God in hopes that he would help figure out the right path for her.
"I prayed for a sense of direction because I enjoyed a lot of different things in college, and I woke up one morning knowing the journalism field was exactly where I wanted to be."
She chose to pursue journalism for her love of news. She wanted a career that would be something different everyday and would keep you on your toes. This was the exact profession for her, so she decided to major in journalism and electronic media.
She graduated from UT with a Bachelor of Science degree in communications, and now works in social media marketing. She maintains different social media platforms for clients. She also produces newsletters, brochures, videos, and more.
She advises students at Central to enjoy the years you have in high school, as they go by quicker than you think. She advises students to do their best academically, but also have fun.
"So enjoy it, work hard, take lots of pictures, be friends with everybody, go to the football games, and just soak it all in before you walk across that stage one day!"

About the Contributors
Bailey Brantingham, Staff Writer
Hi, my name is Bailey Brantingham. I'm a junior at Central High School and this is my third year on the Central Digest. This year, I'm back as Head Staff...