Alumni Spotlight: Shelley Pritchard Continues to Leave a Positive Impact on Students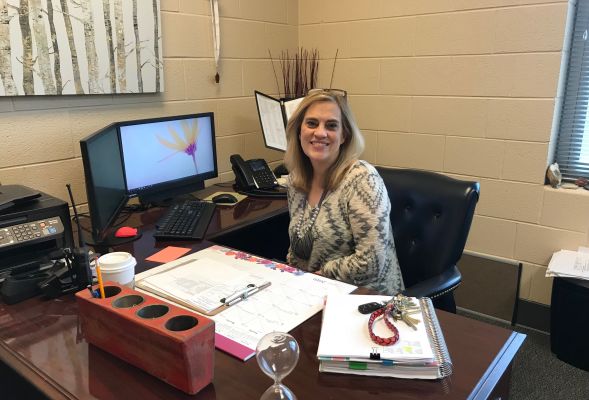 Ms. Shelley Pritchard, an assistant principal at Signal Mountain Middle/High School, has contributed to the illustrious reputation of Central's alumni in the years following her graduation. Once a Central student who became a Chemistry teacher, Pritchard embodies the true spirit of a Central Pounder.
"Central has tradition that most schools can only dream of having. These traditions are embedded in the fabric of the school and drive the spirit of the school" Pritchard vocalized.
Pritchard graduated from Central in 1983, along with current Central principal Finley King and art teacher Mickey Robinson.
While a student at Central, Pritchard was a part of many facets of student life, including Student Council, Office Staff, Beta Club, French Club, and Future Homemakers of America to name a few. She built on these accomplishments when she became a chemistry teacher at her alma mater.
"The best part of being a teacher at Central was seeing the dreams of my students come true. Working with the students and teachers throughout the years has produced many friendships that I treasure more than material things," Pritchard affirmed.
Continuing in her endeavors to leave a positive impact, she is now working with students as an assistant principal.
Pitchard has been an assistant principal at Signal Mountain Middle/High School for three years.
"I work with middle and high school students preparing them to be successful citizens no matter the path they choose after high school," Pritchard stated.
This approach towards education was fueled by her time at Central.
"Central gave me the education and confidence to explore many fields before choosing a field in education.  I knew I had the knowledge to do anything I wanted to do and that was due to the academic preparation I had received as a CHS student," Pritchard conveyed.
Ms. Pritchard continues to use her education she gained through Central, and persistently shows her support and pride for Central.
"If you were to ask those that I work with, they would say I am constantly starting discussions with 'At Central we did …' When the opportunity presents itself, and I am not called to supervise at other events, I attend events at the school. If there is a fundraiser to which I can contribute, I am eager to purchase or make a donation. I met my husband at Central, we both graduated from Central, and my daughter is a graduate of the class of 2011.  We are Central Purple Pounders through and through," she declared.
With that Central spirit, she has a word of advice for all students at Central High School.
"Always do your best and challenge yourself.  This will allow you to choose your path instead of having it chosen for you.  I have always told my students that I wanted them to be the ones that closed doors instead of having doors closed on them because they were not prepared," Pritchard expressed.