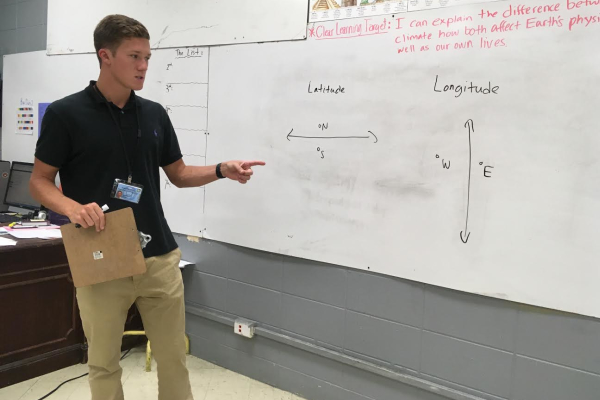 Teacher Spotlight: Central High School Welcomes Joseph Parrott, New World History and Geography Teacher
Teachers are often one of the most influential people in a student's everyday life. From motivating students to do well to giving information needed for success, teachers impact every part of a student's life. One teacher that is already having an impact is Joseph Parrott, a new freshman World History and Geography teacher for the 2018-2019 school year.
"It can be overwhelming at times, but it is also very exciting and rewarding," shared Mr. Parrott, "It hasn't been too difficult adjusting to a new school because I know this school very well since I was once a student here."
This year is Mr. Parrotts first year as a teacher, having spent the last few years at The University of Chattanooga (UTC). He left Central as a Purple Pounder and came back as one as well.
"Personally, I felt called to be a teacher. I wasn't sure what I wanted to do when I started college, so I prayed a lot about it and God put it in my head to become a teacher. I then reflected a lot on the time I spent in Mr. Seals class my junior year at Central, and I remembered how much I enjoyed learning from him and about history. I told myself at that point that I wanted to be a great teacher like him, and here I am today, teaching history at my Alma Mater," revealed Parrott.
Parrott explains that one of his goals is to make an impact on student's lives. He hopes to inspire those he teaches and motivate them to do better. Along with this, he believes teaching is making an impact on his life as well.
"It's helping me become more outspoken and courageous," he explains.
One issue Parrott has already run into is dealing with students who simply do not care about school.
"It has been the hardest part of teaching so far" he added.
The students in his class are looking forward to learning with him, and Mr. Parrott is looking forward to helping students understand World History and Geography this school year.