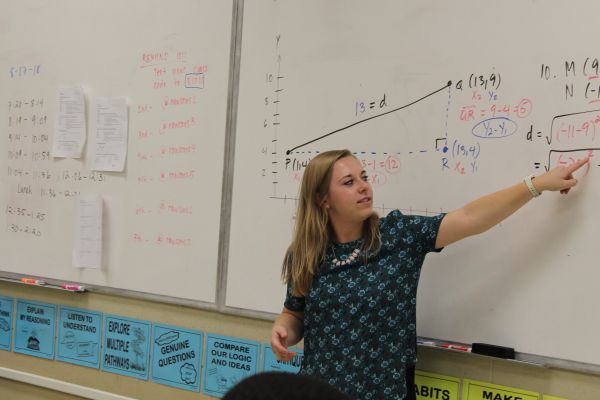 Elizabeth Rawson Joins Central High Staff as New Geometry Teacher
Central High school lost a lot of great educators last year, but as the saying goes, "Out with the old, and in with the new." The latest addition to Central's faculty is Ms. Elizabeth Rawson, Central's new geometry instructor.
"I graduated with a Bachelor's Degree in Mathematics and also received my teaching license in Secondary Mathematics for grades 6-12," elaborated Rawson
Ms. Rawson started her journey at Loveland High School in Loveland, Ohio where she made the decision to attend Lee University. Lee is where she found her love for education and started tutoring high school students.
"There was one student I tutored for three years and her parents had always told her she wasn't 'smart enough' to do math, so she believed them and thought she wasn't good enough. One day while we were working together, she succeeded the problem all on her own and realized she WAS smart and that her hard work was paying off. She had a 'light bulb moment'. That memory has always stuck with me, and I hope to experience other "light bulb moments" with Central High students," explained Rawson.
Coming straight out of college, the 2018 graduate decided for first her teaching job that she would try Central High School. Also, she had a friend who knew Mr. King, Central's principal, which got her an interview.
"Once the interview began, I knew this was the job for me because a supportive administration and faculty a math department that develops growths and a diverse student body that values difference, and I also really liked viewing The Central Digest to figure out what the school was like," revealed Rawson
"My favorite part teaching would have to be being competitive; I've always liked being the underdog, so I could be surprise people. I love helping students overcome challenges they face in math, so they can prove their discipline is worth something," divulged Rawson
Ms. Rawson loves her students and constantly thinks of them developing in their studies. Her main goal is to help a student realizes he or she is capable of overcoming any obstacle. Rawson is very dedicated to her job and what she wants to achieve with her students. For this reason, many students love having her as a part of Central staff.
"My favorite thing about Central is the people, hands down. My students always surprise me with funny jokes, some pretty good dance moves, and a few quirky questions from time to time. I never know what to expect, but my students definitely keep things interesting, which keeps my job exciting," concluded Rawson.