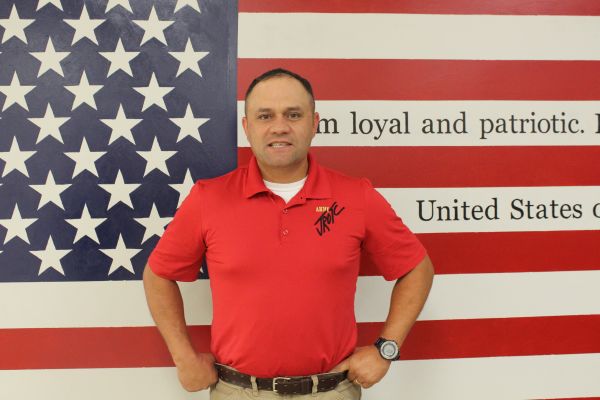 After 25 Years in the Military, Major David Spencer, Joins Central as New JROTC Educator
A military man is only as good as his weapon, as they all say, but it could also prevail in the teaching category. As a previous army veteran, Major David Spencer, plans to shed light onto the proper ways of the military as the new Junior ROTC educator. He hopes to make his first year teaching as successful as possible and hopes to make it count for students and for himself.
"I had an opportunity to do a lot [teaching] when I was an NCO," declared Spencer. "I originally enlisted as an NCO, where I learned task additions and how to speak in front of large groups. Then as a Company Commander, and all up through brigade engineering, I had several hundred people where I'd do a lot of different classes while breaking things down."
While in the army, Major Spencer found it to be difficult. Although, he quickly adjusted due to how much responsibility was compacted into such an environment. The priority of the respect the country needed was not a problem for him.
"My favorite part of being in the army was the camaraderie; everybody stops on a base in the morning for when the flag goes up, and when it goes down everyone gets out of their cars and faces towards the main post flag pole," he reminisced.
With 25 years of experience, Major Spencer has planned to teach his students to not only show that he is worthy of being a fine Major, but also show that baring a uniform is not only what being in the military is all about. He retired from the army on October 31st of 2015, and from there he decided to teach and impact the lives of young people.
"I grew up and graduated from a high school in California, but I originally got my degree at Middle Tennessee State University where I majored in business administration and  minored in military science. Murray State has industrial technology; so industrial engineering from there," elucidated Spencer.
Major Spencer intends to bring his life skills and previous experiences to help and give advice to students in need; while also being a teacher to the Junior ROTC participants. He truly feels he has yet to fit in and make his teaching career as an A.I. count towards the students in their succession, and himself as a leader.
"No matter how you're brought up or what your life situations are, you should set goals and set them as your priority to strive towards those goals," concluded Major Spencer.