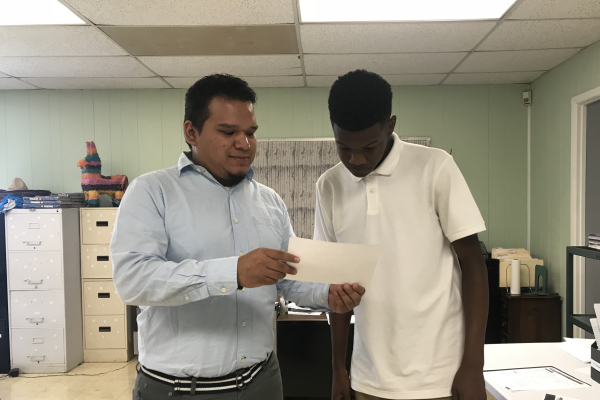 Teacher Spotlight: Central Says Bienvenido to New Spanish Two Teacher, Salvador Piña
Many of Central High School's long time educators have departed the school to start a better and more relaxed life, away from the chaos that high school brings. However, their parting brings opportunities for new teachers that are ready to start this chaotic journey. 
For instance, Central's new Spanish two teacher, Salvador Piña, who has recently started his teaching career, believes that Central is a great school to start.
"I believe he's done a good job teaching his class; Señor Salvador is a nice teacher who has tried to teach us proper Spanish," elucidated Junior Alejandro Salazar.
This is his first year teaching, since he recently graduated from Lee University in May. There are high hopes for making this a great first year to start off his career as a Spanish teacher.  
"I decided that Central would be a good place to gain experience as an educator," Piña expressed. "I feel blessed to have found a job here. I enjoy working with the staff of the school; everyone has made me feel welcome."
Piña is a native Spanish-speaker born in Mexico, who came to the United States with his family at the age of seven. One of the reasons he became an educator is to share and express his culture to others. 
"I wanted to become an educator for several reasons; being a teacher gives me the opportunity to work with young adults and help them in their process of becoming successful adults," Piña expressed. 
"I look forward to the school year and I hope to be able to become an excellent teacher soon, I hope my students know that I'm always willing to help them and hopefully they will always remember that about me," Piña concluded.