Student Section or Senior Section?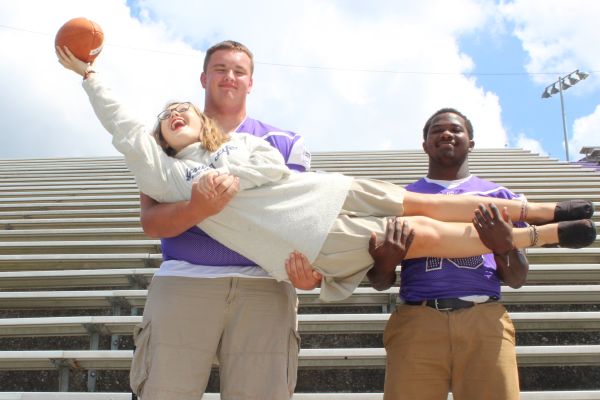 Hey guys, it is time to get serious, seriously crazy, that is. As most of you have noticed, the football season has kicked off and there's nothing better to do on your Friday night than to cheer on your favorite Purple Pounders on the gridiron!
Recently, however, I noticed our football student section seems to be lacking. It seems as if there are only seniors and very few underclassmen. As a dedicated fan of the Central Pounders football team, I wanted to know why it seems as if seniors only want to be in the student section.
As a senior, I decided it was best to start my research with how I felt as a freshman. The first year can be quite scary honestly; high school is so much bigger than middle school and the teachers are not always as nice. I remember it took a lot of courage to walk to the student section and pretend I belonged with the seniors, mostly because they were loud and popular. After a while, though, they started to get to know me better and realized the more people cheering for our team, the better.
Every year since then, I have been drawn to the student section when I go to the games. Everyone there has one main goal: cheer the football players to victory while showing our school and our opponent our Central pride! The atmosphere of school spirit and overall joy in the student section is the most thrilling part of the season because everyone feels like a true purple pounder.
However, the freshmen this year seem to feel indifferent about the student section.
"I don't even watch the game; [I] just walk around with friends," said freshman Cosa Barbee.
"Yea, I didn't even know one [student section] existed," joked ninth grader Kenny Tullin.
Consequently, it seems freshmen do not know about the student section or just do not care enough about the actual game to join the cheering. To try and battle these problems, I am going to list some reasons why the student section is the touchdown of the football games!
First, the student section is located right in front of where the cheerleaders stand. Throughout the game, Central's wonderful cheer captains, Cassidy Dummer and Maggie Watts, will often start loud chants that tend to set everyone in the winning mood. Cheerleaders also often bring prizes and candy just for the student section! Also, the location of the student section is right in front of the field, which, in my opinion, is the best seat in the house!
Second, at every home game, the student section dresses in a special theme. These themes have ranged from Hawiann to neon and even safari! Most students get with friends and create wild outfits and bring crazy props, perfect for the big student section picture. The themes bring an interesting and exciting touch to an otherwise mediocre gathering of students.
Third, the football players love the student section. They often hear the chants and overall support and turn around just to wave or smile. Lately, however, as I discussed the student section they seemed a little less hopeful about the underclassmen's support.
"I just really do not feel supported by the underclassmen," said senior football player Jahiem Jones.
"Yea, I love the support the student body gives our team, however, I'm worried how [the student section] going to look next year," commented senior football player Michael McGhee.
You heard it there, the football players love some good fans but they also love a diverse group of fans. When students from all grades are on the sidelines cheering their hearts out, the players feel proud to be on the Central Pounders team.
To wrap this all up, freshman, sophomores, and even juniors are always welcome to join the student section and at this point highly encouraged. You can meet so many new people and overall, maybe even have a better game experience! Also, I happen to almost always be somewhere in the student section, so do not be afraid to say hello! Of course always remember, no matter where you choose to stand at the game, it is always a good night to be a Central Purple Pounder!
Jumping back from last week I left you guys with some pretty interesting truths.. and a lie of course. The lie from last week was I own and taught myself the ukelele. Sadly I can not play the ukelele, but I can play the piano… well sort of. Anyways on to this week two truths one lie…
1. I once ate 32 pizza rolls in one sitting.
2. I have a very overweight dog named Mudbud.
3. I have never broken any bones.