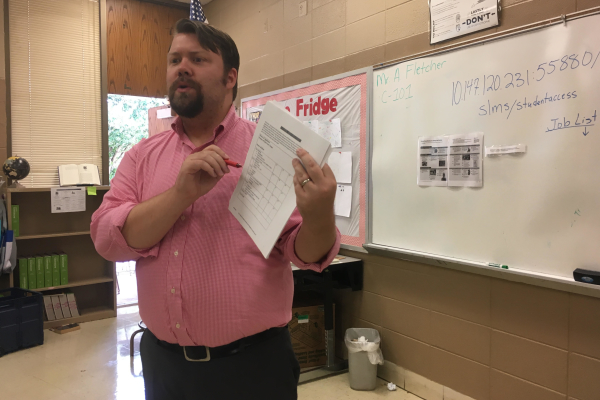 Teacher Spotlight: Central High Students Welcome New English Teacher, Adam Fletcher
Adam Fletcher, Central's new English 9 and 12 teacher, has been teaching for nine years and is excitedly approaching his tenth. This is his first year teaching here at Central, so he hopes his students enjoy his class as much as he likes teaching it.
"Teenagers thrive, I want them to be confident in whatever they choose to study," Fletcher explained.
Fletcher likes being able to connect with his students; he believes that English is an interesting subject and enjoys sharing it with others. He loves watching his students grow academically and will always be there to help with mistakes along the way.
"Interacting with kids and getting to show that the subject is interesting is probably my favorite part," he shared.
Fletcher studied at two major colleges in Tennessee. He attended Carson-Newman University, in Jefferson City, where he received his Bachelor's degree, which was mainly focused on American Modernism. He later received his Masters degree on Restoration and 18th Century British Literature, at East Tennessee State University (ETSU), in Johnson City. Both degrees dealt with English literature.
Fletcher believes one of the hardest parts about teaching school is the fact that some students do not care and they often misbehave and might not work on their school work.
"The hardest parts of teaching are those students who don't want to learn and distract others," he explained, "I would say that students should be respectful to each other and to their teachers. Life is much simpler when we play nice together. I would like for students to advocate for themselves because I want them to become independent."
Teachers may be occupied with school work, but they also have their hobbies they like to do outside of school. In his spare time, Fletcher likes to read books, work in his yard, and spend quality time with his wife.
So far it has been a great year for Fletcher and he looks forward to being able to teach his students who enjoy English because he believes it is an important subject. He will definitely try his best to make this a memorable year for himself and for his students.