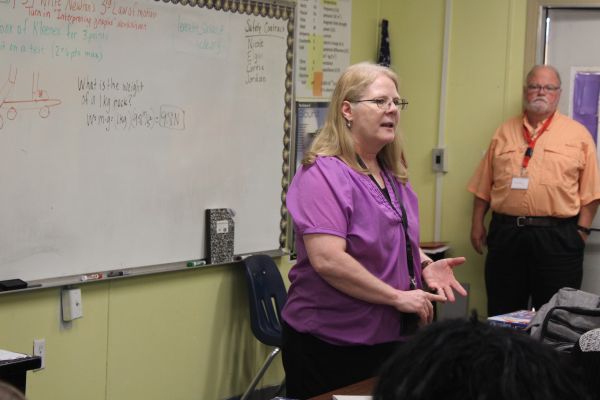 Teacher Spotlight: Central Alumna Leverette ('77) is New Physical World Concepts Teacher
Susan Leverette, also known as Ms. Leverette, has been named as the ninth grade Physical World Concepts teacher. This is Leverette's second time as a Purple Pounder; she graduated with the class of '77 and is so excited to be back at Central High.
"I am so glad to be a Purple Pounder again. I love that Central has so much tradition passed down from year to year," exclaimed Ms. Leverette.
There are many ups and downs to being a teacher. Many teachers believe that there are more positive things to teaching though, such as being in an environment with great students and faculty.
"I love working with teenagers because they have so much strength, energy, and creativity," Leverette alluded, "I also love working with such a great faculty."
Every coming school year, teachers will make long term goals they hope to achieve throughout the year. This year, Leverette will attempt to get to know her students and hopes on unfolding new things throughout the school year.
"I hope to accomplish this year getting to know all of my students and understand a little more about each one of them," responded Ms. Leverette.
Leverette really cares about her students. She encourages them, especially girls, to consider technical careers which aren't always discussed amongst students. She tries to open their eyes to more than what society is bringing them, or telling them to do.
"She takes time out of her day to explain things in detail to help us understand things as much as possible," stated freshman, Olivia Shannon.
Being put in this new teaching position these past couple of weeks has opened her eyes in ways she didn't expect.
"I have a greater understanding that teenagers have to deal with a great deal of stuff these days. It's not easy," acknowledged Leverette.
Ms. Leverette hopes to make a difference in this position. She desires to help as many people to appreciate science and discovery. Also hoping that she is healthy, retired, and traveling in the future.