Spooky Season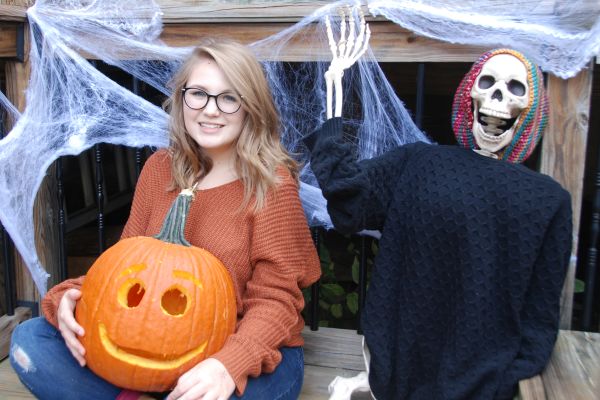 Pumpkin carving, humorous boos, seems like the Halloween season has come through! Yes, the spooky season is here and nobody else is more excited for Halloween than me. Over fall break, I considered writing this column about my favorite scary movies or maybe fall treats I love to make, but eventually, I decided to write about my pumpkin carving experience. This will be partly a how-to and a personal experience.
Carving a pumpkin is overall one of my favorite parts of Halloween. I love to pick a fun face to carve, and I also love baking pumpkin seeds! This year I had pretty good luck finding a good pumpkin to carve, which is exciting because that almost never happens. It is always smart to find a pal to help with carving the pumpkin; if you do not have any pals you can make your own! I chose my old pal bones, he is nice but I would not exactly call him the life of the party.
Step one as in any pumpkin carving is to carve a hole into the top. Turns out it is very hard to carve a pumpkin with a kitchen knife, so I suggest buying a carving kit. The kit includes a cute little hole puncher that is used to map out where to cut. This is also apparently a very important tool I suggest using unless you want a crooked top!
Next, it is time to scoop out the inside, I thought before starting this adventure I knew exactly what I was doing, I was wrong. Learning from my mistakes, it is probably wise to wear clothes you can easily wash and short sleeves. From my experience digging pumpkin out of my hair, I also suggest trying any long hair into a knot. Last, it is important to grab a couple of bags to put the extra pumpkin stuff you do not want in.
Moving along, it is now time to sketch the design onto the pumpkin. I chose to do a basic face mainly because my art skills are less than impressive, but some people get really creative. Picking up that same hole puncher, poke along the edges of the design. Once the edges are poked, it is time to cut! Again I really recommend using a special pumpkin knife, after having a couple of close calls, I would rather no one else almost lose a finger…
After all the pieces are cut and punched out, it is pretty much complete. Grab a candle and now you have a jack-o-lantern! I also recommend saving the seeds and roasting them in the oven with some cinnamon sugar, they are amazing!
Now, let us switch back to quite a while ago, my lie just so happened to be I write songs in my free time. Sadly not only is my car singing not A plus quality, but my songwriting skills might just be worse. That means I did play basketball at one point and yes for some reason Valentine's Day has never really gone well for me. Moving along, here are this week's Two Truths and One Lie
I once went to Disney, but I was too short to ride most of the rides.
I own at least three puppets and yes before you ask, they are all dinosaurs.
I used to order a bowl of cherries before every meal when I went out to dinner with my family.
About the Contributor
Laurelie Holmberg, Columnist
Hey everyone! My name is Laurelie Holmberg and this is my first year in the Digest. As the senior columnist, I plan to give all my readers fun and entertaining...