Kevin Parsons Selected as Class of 2019 Dedicatory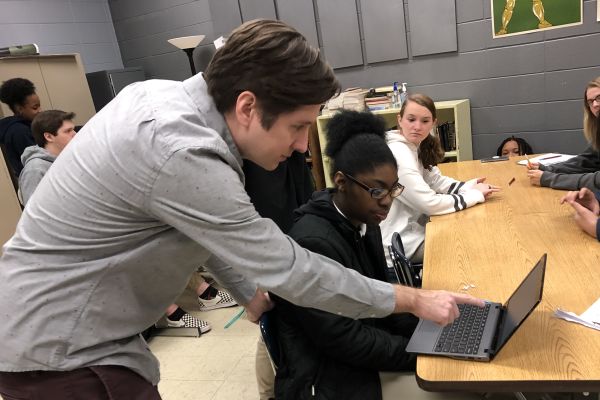 Every school year, the current senior class has the privilege of electing a dedicatory to represent their class. This year, the class of 2019 elected Mr. Kevin Parsons. He has taught at Central High School for the past 11 years, specializing in English, Theatre, and Philosophy.
Parsons, who also serves as the chair of the English department, has a great love for his profession and the students he impacts. He cares about building and fostering relationships with past and present students.
"He is one of Central's most approachable staff members; I feel like I can talk to him about anything, whether it is school related or not," noted Lilli Lively, a senior at Central.
Many students agree that Parsons is someone they can always talk to about personal matters or for educational advice. He is encouraging and thought-provoking in and out of the classroom.
Parsons speaks on what he loves about Central. He has great pride in the school as a whole and the culture that comes with it.
"More than anything else, I love the diversity of Central. I think our demographics are middle of the road. It affects the motivations of the students," explained Parsons.
When the announcement was made over the intercom, he was ecstatic. Parsons immediately called his wife and his mom. He was honored, but he also felt that it was ironic that he won.
When this class of seniors were in their sophomore year, Parsons taught English 10. Many students did not relate to his teaching style and personality. Some students did not enjoy his class as much as others. However, for many of these students, their relationship has grown deeper since having him as a teacher. Now, many view him as much more than a teacher; some even consider him to be more of a friend or a role model.
In addition, as a part of the honor, the senior class dedicatory must choose a theme for Senior Day. This year, Parsons chose the theme to be "Knights at the Round Table" to symbolize invisible lines that separate humans and how one must use their strengths to overcome those boundaries. He wants this to be an encouragement for seniors as they leave high school and move on to the next phase of their lives.
"It doesn't matter how crappy the world is, you keep trying to make it better," added Parsons.
The class of 2019 could not be happier to have Parsons represent them. Mr. Parsons is truly more than a teacher to the students of Central High; he is a mentor and friend.