Darlene Spears Continues to Help Students Excel in Spanish I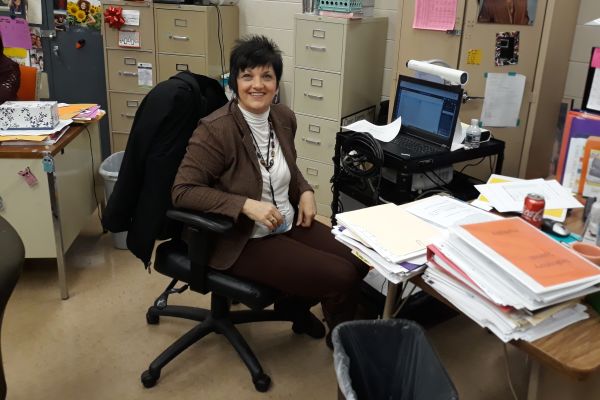 Learning a brand new language can be a stressful, yet rewarding new experience. To be completely comfortable with assimilating a foreign vocabulary, it's best to be guided by a professional who has been qualified to lead others to fluency. Getting a complete understanding of the basic concepts of a language is important because it sets the foundation for the rest of your learning experience.
Jennifer Allen made it her point to make learning Spanish easy, but, unfortunately, she no longer works for Central due to health complications. Central's latest Spanish I teacher, Darlene Spears, is carrying the torch that Allen passed to her, and is picking up where she left off.
Spears is currently getting her students caught up, and preparing them for the final exam. Being called in so late in the year can be a difficult adjustment to make, but she explained that she has still managed to persevere for the sake of her students.
"It has been a little crazy because my first two days started in December [on] a two hour delay. On top of that, the students were doing their benchmark testing and the following week was their midterm exam," Spears recalled.
Spears has proven to be very adequate when it comes to her capability to teach the language. Based on her past experiences, she noted that this definitely is not her first rodeo.
"I have been teaching for 15 years at the following schools: Murray County High School in Chatsworth, Georgia, Cleveland High School in Cleveland, Tennessee, Boaz Middle School in Boaz, Alabama, and Gadsden City High School in Gadsden, Alabama," Spears said.
Her understanding of Spanish has impressed her students. She possesses a deep cultural understanding of the dialect, and has even traveled to different parts of the world.
"I learned Spanish after living in Columbia, South America as a missionary for two and a half years. After returning to the United States, I attended Lee University and received my Bachelor of Arts in Spanish. While I was a student, I went on a six-week cross-cultural trip to Chile, South America, and studied the language and culture. I've also taken several trips to Mexico because my daughter, her husband, and their three children live in the Yúcatan Peninsula," Spears divulged.
As a teacher, she went on to explain a few steps that students could take to improve their Español. She explained how believes that these tips can help improve an English speaker's Spanish by a margin.
"I think one of the best ways to learn a new language is to find someone who is native speaker and converse with them often. I tell my students to only study their Spanish vocabulary on days they eat. I also encourage them to practice speaking Spanish within their classroom, but also be willing to take it and use it outside the classroom. Finally, my last suggestion is to take a trip to a Spanish speaking country and enjoy the language, culture, beauty, and people," Spears imparted.
Spears' students have not completely adjusted to the environment, but they still remain optimistic towards the future of the class. Once they are all comfortable with their new teacher, they believe things will fall into place.
"Her teaching method is really different than our last teacher, but considering that she's a new teacher and our class is so far behind, it's not her fault. However, I believe that she will really help us get a grasp of the language and help us make it to Spanish II," concluded Sophomore Megan Wooten.