Looking Back: French and Ashley, Seniors of 1949, Awarded D.A.R. and S.A.R. Awards For Accomplishments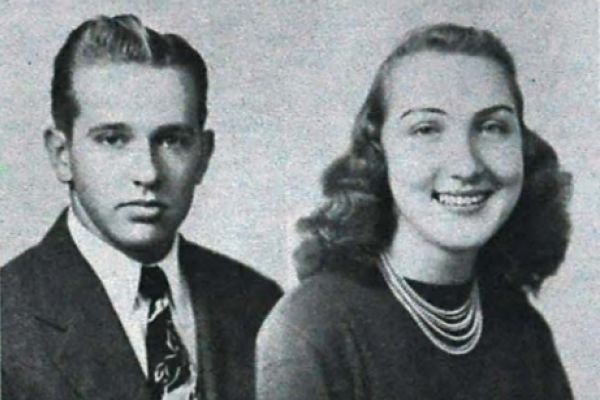 Most Enthusiastic Supporter of Central is Little Blue–Eyed Johnny Slatton
November 1948
One of Central's top-notch supporters at the time was Johnny Slatton, who turned three years old on December 25, 1948. The toddler looked up to his older brother, Archie, who was the head cheerleader at the time. Slatton proudly wore his golden "C", and loved to perform alongside the other Central cheerleaders. Slatton had an immense love for music and would sometimes imitate the band director, Mr. Walker, at the end of the games. Central administration was looking forward to a cheer team that would be led by him when he became a senior in 1962.
Standing Ovation Greets First Debut of Central's Hillbilly Band
November 1948
On November 4, 1948, Central's auditorium was bursting with "old mountain music" as the Hillbilly Band performed for the very first time. The idea of a Hillbilly Band was first sought after by Bill Holloway and Sam Jones. They soon learned that several others at Central wanted to see a similar music group, and thus, the Hillbilly Band was formed. The band would practice during fifth lunch period every day. Mr. K. W. John often found himself sneaking into the some of the band's practices. The boys hoped to become much better and to soon be able to play at other schools in the area.
French Elected to Receive D.A.R. Award
January 1949
Barbara French was elected by the senior class to receive the D.A.R. Award. The award was based upon the girl's dependability, truthfulness, loyalty, patriotism, and leadership among many other respectable traits. French was among three Central students selected for the award. Each high school in Tennessee sent representatives to the state for a chance to be chosen for the title. The winner received a $100 savings bond and a trip to Washington D.C. Later, in 1935, Leila Welch received this honor. French was a member of the National Honor Society, vice president of the Ushers, and Editor-In-Chief of the Central Digest.
Franklin Ashley Will Receive S.A.R. Award
January 1949
Franklin Ashley was the chosen senior to receive the Sons of American Revolution (S.A.R.) award for the 1948-1949 school year. The award was given to one senior boy each school year. The senior class would elect three candidates, from which the faculty would make their final decision. Ashley was chosen for his dependability, cooperativeness, leadership, and patriotism. Ashley was president of National Honor Society and a lieutenant colonel in JROTC. Ashley received his S.A.R. award on the Class Day of 1949.
Dr. Swafford Speaks Out About Mental Illness
March 1949
Dr. J. S. Swafford, Superintendent of the Hamilton County Hospital for Mental Patients, presented his "Early Signs of Insanity" speech to Central students on March 1, 1949. Swafford highlighted that more intelligent students are prone to becoming insane due to the fact that they are "more emotional and worry more." Swafford noted several early signs of insanity including loss of interest, desire for seclusion, negligence of appearance, and fading memory. Swafford made sure that students, parents, and teachers were all made aware of the symptoms and how to treat the symptoms if they were to become apparent.
About the Contributor
Blake Catlett, Assistant Editor
Hey! My name is Blake Catlett, I am a junior, and this is my third year serving on the Digest! This is also my first year serving as the Assistant Editor....