Distinguished Alumni Judy Reich Continues to Share her Love for Music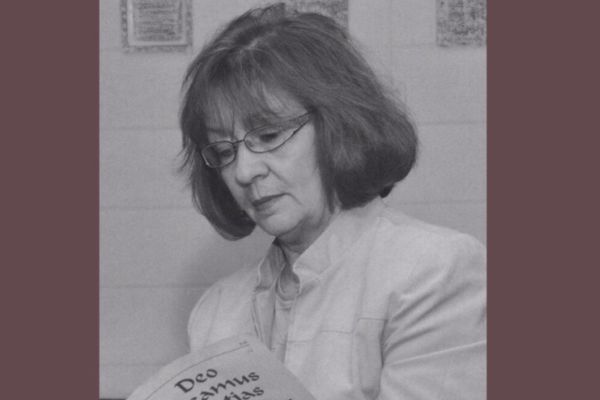 The month of May is a time of seniors bidding farewell Central High; it is a time of recognizing the graduating class with Senior Day. However, the seniors are not the only people the school acknowledges on this special day. On this day, administrators induct Central High School graduates and supporters into the Distinguished Alumni Hall of Fame.
Despite the title of Distinguished Alumni, in order to be inducted into this esteemed program one does not necessarily have to be an alumni. Judith "Judy" Mathis Reich did not attend Central High School, but instead taught choir here for 39 years, from 1972 to 2011. She stayed at Central until 2017, though, to help the succeeding choir directors.
"The year after I retired, there was a director who did not fit real well and left after a year. When the next director came, she had only taught elementary music. She wanted me to help her by accompanying the choir, playing piano, and conducting. Dr. Boutwell came after that and I played piano for her for four years," Reich explained.
Reich was nominated into this position of great recognition by one of her former students, Richard Cox. He was inducted as a Distinguished Alumni in 2017 as an acclaimed opera singer. Many of the students Ms. Reich taught throughout the years have been honored as great singers, went on to become lawyers, or entered into other successful careers. She felt so honored to be nominated by one of her former students.
"I am overjoyed and flabbergasted by this very humbling experience of being nominated," Reich admits.
Along with directing the choir, she taught theatre and the guitar class. She even taught current Central teachers, like Mrs. Sally White in her theatre class and Mr. Mickey Robinson in her guitar class.
Reich obtained her music degree at Florida State University after attending Shorter College. However, her love for music and the arts did not begin there. She started playing piano at age five, and before coming to Central, she was the choir director at Chamblee High School in Atlanta, Georgia for five years.
Her tremendous love for music was made known at Central High. She was well respected and honored at Central, excelling at everything she accomplished. Her choir was selected to sing at Disney World for 15 years, starting in 1996, to sing at the Epcot Candlelight Recessional for Christmas. Her choir was even dignified enough to participate in All East and All State Choirs. They participated in many different competitions to show off their abundant talent. She even programmed five musicals during her time at Central.
"My love of music, students, and seeing how they react to different genres and pieces of music is what kept me going. We sang music from the Renaissance all the way to pop music," Reich stated.
She was well loved by her numerous students at Central, even receiving the title as Dedicatory in 2011. Of course, she tied in her love for music into her special day. The theme was inspired by the Doobie Brothers' song, "Listen to the Music". Reich focused on how music is a universal language that inspires people around the world.
Reich has shared her love of music with Central, but has also shared it within the community. She was the music director at Chattanooga Christian Theatre, arranging 12 musicals. They performed famous pieces of art, such as "Chitty Chitty Bang Bang", "Annie", "Matilda", and "The Sound of Music". She also has a passion for religion, as she has been the music director at St. John United Methodist for 30 years. She directs the choir and handbells.
"Directing the choir at St. John's is very special to me, especially since a lot of my former students come and sing with us," Reich explained.
After all the time she spent at Central, she still cherishes the school, the spirit, and the traditions that come along with it. She completely represents Central and the the good outlook the students at the school strive to have. Her hard work, dedication, and selflessness shine through, proving her right to the honor of being inducted into the Distinguished Alumni Hall of Fame.
"Central was my second home. When we were doing musicals, sometimes we were there half the night, building sets. Everything was so successful, thanks to my much support," Reich concluded.