Kelsay Cate Faces New Beginnings Teaching English 9 and Theatre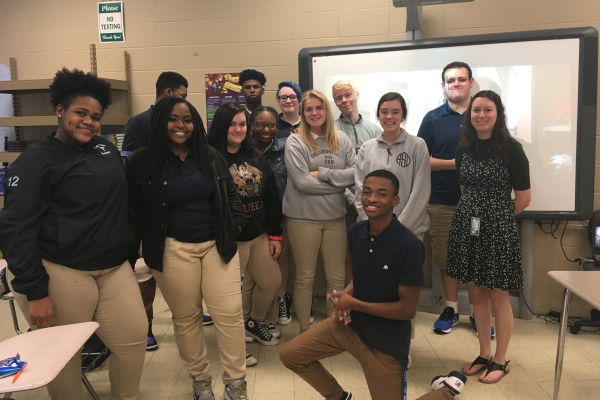 With a new school year comes an abundance of new faces, whether they be teachers or students. Although the student body and faculty bid farewell to the familiar faces of former seniors and teachers, the school is eager to welcome newcomers. One new teacher Central has the honor of welcoming this 2019-2020 school year is Kelsay Cate, the new English 9 and Theatre teacher.
Cate attended Lee University and obtained her bachelor's degree in English, with an emphasis in writing. She knew she was skilled with English and writing, but was unsure of what to specialize in during college. However, she recognized teaching as her calling eventually.
"Through cultural development work, I volunteered and taught English as a second language to refugees from Yemen and Syria in Detroit, Michigan. Through working with the refugees, I realized I had a strength and gift in teaching. I started working as a teacher while earning certification. Teaching is just the right path for me," Cate said.
After her volunteer work in Michigan, she proceeded to acquire her teaching license. She completed an online program, provided by The University of West Florida, called Teacher Ready and began her education journey.
Although this is Cate's first year at Central High, it is not her first year teaching. She taught fourth through eighth grade English three years at a private school, Annoor Academy. Despite participating in theatre as a child, Cate never acted herself. However, she made use of her leadership skills and passion for theatre and lead the drama club at Annoor.
"I did drama club there. We did many productions, like 'The Secret Garden', and 'Stopping at Ellis Island', a play about refugees coming over to America in the 1900's. My role in theatre is bringing out gifts and skills in students. I let them shine while I stay in the background," Cate revealed.
Cate is enthusiastic about this school year and what is to come. She is ready to face this new beginning head on, especially within her theatre group. The drama club has 12 members this year, with a total of two productions ahead of them. Her drama students are also eager about the fresh start in the class.
"I have not known Ms. Cate that long, but I like her. I think she is very nice and respectful. I feel like it is going to be easy to open up in her class," Junior Taylor Hearrell said.
"Cate seems to be interested in what we like instead of what she would rather do and I like that about her. I am really looking forward to having her as a teacher and director this year," Junior Ashlee Smith said.
As for Central itself, Cate is keeping a positive mindset. She feels very welcome from the people at the school and in return, wants to make her students feel welcome. She has set many goals for this year and can not wait to execute them.
"I love Central so far. The English department and administration have been so helpful if I need anything. I am learning a lot and I am excited to grow as I work with my students. I want my English students to succeed on the EOC and my theatre kids to grow as a team and family," Cate concluded.
About the Writer
Abby Young, Staff Writer
Hello! My name is Abby Young. I am a senior here at Central and this is my second year on the Digest. I am unsure what I want to pursue after I complete...